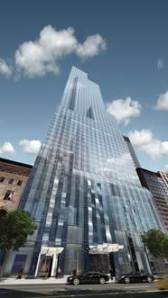 Sales opened today for Extell's giant glass tower, One57, the latest and greatest in Midtown developments. When completed, the building will stand 90 full stories (no, that's not a typo), and will be topped with a $98 million penthouse. The building, which will also include a "Five Star" Hyatt hotel (seems to be "five star" in the abstract adjectival sense, seeing as construction isn't even complete yet…), in addition to the 95 luxury condos which can be yours, all yours, starting at just $6.375 million. Any takers? OK, aside from foreigners?
Christian de Portzamparc designed the building's facade, which looks like a toned-down Hyatt-y version of Gehry's "New York." The interiors of the condos were designed by Thomas Juul-Hansen who "took inspiration from de Portzamparc's exterior, creating discreetly opulent interiors with a nod to French modernists such as Jean Michel Frank," according to a press release.
An updated website also features an exorbitant 360 panorama of these one-of-a-kind, Empire-State-Building-worthy views and a video of how Mr. de Portzamparc conceived of such a colossal tower.
And so you are now one step closer to getting that $98 million penthouse you've always wanted! Christmas present?