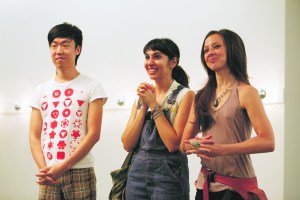 After spending the holiday season absentmindedly spilling eggnog on ourselves as we brooded over how we might pay apt tribute to the now completed second season of Bravo's reality seminar on the state of the art world, we recalled our school days, and specifically the "lecture poems" we would occasionally compose. One penned such a poem by scribbling snippets of a professor's biweekly homily in one's notebook, and then, without changing the order of any of Professor So-and-So's comments, excising words until what remained was well-wrought verse, rife with the feeling of the lesson, if not its drier facts.
Eureka! We could write a kind of ode, cobbled together from the pithiest lines of our many notes and articles on Work of Art: The Next Great Artist, evoking the season's high points, and drawing together its major theses on contemporary art before bidding it a final adieu.
Before we leap into our lyrical list of aphorisms, however, here is a précis of the drier facts of the finale: Contestant Kymia Nawabi was crowned Next Great and was rewarded to the tune of $100,000 courtesy of Fiat, a solo show at the Brooklyn Museum, and a cover story in Blue Canvas magazine, as well as the promise that one of her works would be auctioned off by Phillips de Pury & Company. Young Sun Han was dubbed the runner-up (a.k.a. "Next Pretty Good Artist"), while Sara Jimenez was bestowed the title of second runner-up ("The Other Artist Who Was on That Show").
Now then, let us unzip our Trapper Keeper labeled Work of Art: The Next Great Artist and draw our Day-Glo highlighter across the most trenchant observations we recorded over the course of Bravo's semester, in the hopes that they will lead us to an understanding of the art world and of Work of Art's role within it.
Work Of Art:
An Exegesis In
Free Verse
Artists are to be judged by a displeased-looking journalist, an auctioneer with a European accent, a tall-haired gallerist and a rich, confused-looking socialite (x 100 = art world).
Most good-to-great artists have lost their fathers, some to horrific jet-skiing accidents.
A successful contemporary artist can be derivative, but shouldn't be so derivative that even the socialite art-world arbiters can identify who is being ripped off.
Bravo's show may just be an attempt to remake the violence of MFA programs, but with more poop.
Nobody in the art world knows what "Pop Art" is, except perhaps for Rob Pruitt.
Kids are cute.
Some artists are friends with
Al Pacino.
Art inspired by some of the most socially and politically contentious issues that confront us is not necessarily good art.
These days street art is mostly made over the course of many daytime hours, in full view of joggers and the police.
It may or may not be a self-fulfilling prophecy for an artist to call himself the Sucklord.
(It is.)
As it has been since the days of the Medicis, great art is sponsored by patrons looking to hang their logos alongside anything avant-garde.
In the art world, selling out means selling T-shirts.
People like art with boobs in it.
People like boobs.
They don't let you into the Great Artist Canon until you've turned a sardonic, haughty or at least clinically anthropological gaze on a few out-of-towners.
When artists have three months instead of three hours to make work, they do a better job.
Bill Powers gets two Pantone shades tanner each week.
China Chow's hair gets two inches longer each week.
Simon de Pury has learned to drive not just one, but two Fiat cars.
Jerry Saltz wears Spanx on TV.
There's so much crying on Bravo.
But what is the sum of this Rules of Civility-style guide to understanding (and then dominating) the art world, as defined by Bravo, the George Washington of reality television? Let us look to the three final contestants to see what they took away from their stint living in a reality delineated by these tenets.
Second runner-up Sara Jimenez is now earning an MFA from Parsons, while simultaneously working in a gallery. First runner-up Young Sun Han told The Observer after the show ended that he has continued to make art and that he too holds a job in a gallery. The show's winner, Kymia Nawabi, meanwhile, explained to us that she has "been working a lot, you know, unfortunately at waitressing jobs," adding of the season's end, "It was kind of like going from being in this really strange wonderful magical weird bubble and then back into a really harsh reality again."
How could this be? How come the artist who most faithfully and unerringly followed Bravo's path to Great Artist-dom is not being feted by the art-world elite, fed plump grapes by Glenn Lowry, while Eli Broad fans her with a palm leaf? Do the powerful not watch television? "People definitely watch," Mr. Han confirmed for us. "Definitely people are engaged with it in the real art world—whether they love the show or hate the show. It's a guilty pleasure for some, but they're watching."
Ms. Nawabi expressed similar hopes that somebody important might be tuning in, asserting, "I just want everyone and anyone to see this work. I made a show that I would be so excited to show anyone, whether it be Simon de Pury or … you know, anyone … or Saatchi! Or whoever."
Yet we'd hazard that—although the caliber of the artists on season two was generally higher than those in the first season of Work of Art—those former contestants who make it in the real art world had their foot in the door before they appeared on Bravo, and don't suffer delusions that their careers will be made by their stint on reality TV.
"I think people will know my name or face a little bit more," Ms. Jimenez wryly told us of how her life has changed since receiving the bronze medal in the grand arena of art reality TV. "But I don't think it necessarily means that Gagosian's going to call me and be like, 'We want you to be represented in our gallery.' I think that's a long-term process."
editorial@observer.com