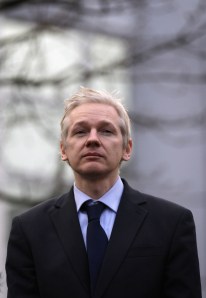 Last week, Michael Bloomberg attended a press conference for the 100th episode of Gossip Girl. "I just don't see how Blair could marry Prince Louis when she's clearly in love with Chuck," said the New York mayor, who apparently had nothing bigger on his plate to worry at that moment, such as the allegations of rape made against Greg Kelly, the son of his police Commissioner Ray Kelly, or the NYPD head's own cameo in an anti-Muslim training video for NYPD recruits.
"I just wish that Nate and Vanessa had been able to work things out … but, again, I'm just a casual fan," he added.
We don't begrudge Mayor Bloomberg his guilty pleasure—after all, we spent all of Monday night watching the premiere of RuPaul's Drag Race instead of doing actual work. We're pretty sure front-runner Sharon Needles is taking all her inspiration from Lady Gaga, who has been stealing her "signature" look from drag queens and selling the designs to Barneys. It seems only fair.
Julian Assange, who is not quite a drag queen (though if he started dressing like Tilda Swinton we might not even notice a difference), is also guilty … of loving The Simpsons! The Wikileaks founder and all-around creepy person of interest will be supplying his own voice for a Feb. 13episode, the plot of which we're predicting will involve Lisa picketing SOPA and Bart teaming up with the Australian after confusing the name of the international whistle-blowing organization with that of a rapper with poor bladder control. We're impressed with Matt Groening's ability to convince infamously reclusive celebrities to perform cameos. How does one even get through the levels of publicists, assistants and team of ninja henchmen guarding the abodes of Thomas Pynchon or Michael Jackson and pitch them on doing a Fox cartoon? We'd say Scientology was involved somehow, but Nancy Cartwright's robo-calling fiasco from 2009 made it clear she wasn't a high enough in their caste system to be considered an Operating Thetan … let alone a Thetan operator.
But let's not pick on Scientology too much. After all, we are located in New York, where members are basically regulated to asking people taking stress tests in the Times Square terminal. What worries us more is another pseudo-religion. You know, the formerly fringe one based out of Utah, where a single patriarch rules over a cult that's become alarmingly more mainstream every year despite its seemingly arbitrary set of rules and scripture. We're talking of course, about the Sundance Film Festival, which just finished its 28th year of indie hits and celebrity swag parties sponsored by Bing and Grey Goose vodka. We realize Sundance plays a very important function, since by February most actors are so worn out from the exhausting L.A. awards season that they need to depart en masse for a vacation on the slopes—where they will also be handing each other awards and mingling with the Kardashians.
The festival was originally created to promote independent American filmmaking but has turned into a paparazzi paradise where it's easier to find Tracy Morgan passed out at a party than a ticket to one of the 181 screenings taking place over the course of the week. Still, some of the original anti-Hollywood sentiment remains in the proceedings: The grand jury prize went to Beasts of Southern Wild, directed by first-time filmmaker Benh Zeitlin and starring an 8-year-old unknown named Quvenzhane Wallis as an impoverished African-American girl scraping by in Louisiana with her father. Expect the remake to star Willow Smith, or even worse, one of the Fanning sisters.
(Un?)fortunately, the end of Sundance is just a placeholder in the middle of a season marked by Hollywood award ceremonies, Fashion Week and Jay-Z's first concert at Carnegie Hall. We'd ask our assistants to help us with all the RSVPs, but they've already taken the time off to start gearing up for South by Southwest. Or maybe we'll just stay home and watch Gossip Girl.