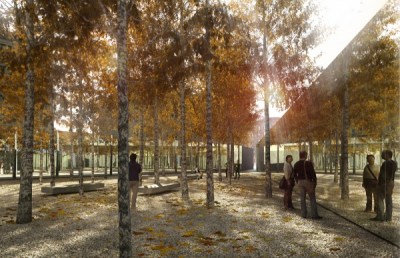 With all the negative attention surrounding Rudin Managment's plan to turn the old St. Vincent's hospital into condos, there has been one piece about which people have been genuinely excited—even if it is not officially part of the plan: a new AIDS Memorial Park proposed for a triangle of land at the corner of 7th Avenue and 12th Street.
Today, the AIDS Memorial Park Design Competition jury announced the contest winner and selected a local design team from 475 submissions from around the world. The Brooklyn-based crew,  studio a+i, proposed a design called "infinite forest." Stands of trees are set against polished surfaces reflecting the "forest" on-and-on as well as those inside. It creates a space of quiet contemplation that hides the busy city beyond.

"The winning design creates a space for reflection, awareness and recognition, while acknowledging the history of the disease," jury chair and 9/11 Memorial designer Michael Arad said in a statement.
Studio a+i is made up of Mateo Paiva, Lily Lim, John Thurtle, Insook Kim, and Esteban Erlich, and their design was rendered by Guillaume Paturel. According to their website, the designers have created both retail and residential spaces around the city. Previous projects include a Tribeca loft, french clothing brand Zadig and Voltaire's Mercer Street store and the Ronnybrook Milk Bar at Chelsea Market.
"The winning concept inspires us, and is the starting point for an iterative process to design a green oasis with an AIDS memorial for the community and New York City," memorial co-founders Christopher Tepper and Paul Kelterborn said. Three runners up and 12 honorable mentions were also awarded to competing designs.
The only remaining question is whether Bill Rudin will build it. He seems obliged. After all, the AIDS memorial project has helped shore-up some support for his development project.
Update: Mr. Rudin is eager to work with AIDS activists on incorporating elements of their proposal into his. Considering a new design would require an entirely new public-review process, this specific memorial seems to stand less of a chance of actually getting built, as it would take at least another year to be approved. Below is Rudin Management's statement:
Our neighborhood park design – which was approved by the Landmarks Preservation Commission, Community Board 2, the Borough President's Office and the City Planning Commission – allows for a commemoration of both those effected by the AIDS epidemic and of St. Vincent's Hospital for its 160 years of service to the community and its steadfast commitment to care for those suffering from HIV/AIDS. We stand ready to continue our work with all stakeholders to determine how best to realize these memorial elements as part of the approved park design in a timely manner.
eknutsen@observer.com