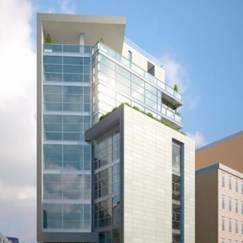 While financiers have tended to favor the comfort of uptown, that is starting to change.  The emergence of Tribeca as a top real estate destination has added another foci to the perennial orbit of New York's luxury buyers. The dust has settled on the latest and greatest Tribeca penthouse sale, and this one comes with an uptown price tag. A condo 471 Washington Street has just sold for $17.5 million, city records show, and the buyer is a business big.
The 4,209-square-foot home was purchased by Harsh Padia, a financier who started his own hedge fund two years ago. Mr. Padia is married to interior designer, Purvia Padia, whose name does not appear on the deed. A mortgage for the Washington Street property was, however, taken out in her name. Looks like all is well in the Padia household! And with a little luck Mr. Padia has found himself a designer who will decorate the place gratis!
The home was originally priced at $15 million so we called Douglas Elliman broker John Gomes, who held the listing with Fredrik Eklund, to find out why the Padias paid so much.  Sadly, he could not oblige. "I cannot talk about 471 Washington at all," he said. According to StreetEasy, however, the three-bedroom, 3.5-bath condo hit the market on March 24, and had entered contract by two days later.
The sale, though not the buyers, was originally reported by Curbed. You can check out the massive four-story flooplan there.
eknutsen@observer.com