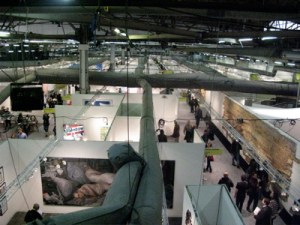 Ah, art fairs. Otherwise known as "hell." The Armory Show exhibitor list is a little smaller than last year, though still massive, and a reminder of just how littered with art fairs New York will be this spring. The big names are Armory Contemporary and Modern, the ADAA Art Show and Frieze New York. Let's crunch the numbers a bit, shall we?
The big question that arose when it was announced that London's Frieze would come to New York was what that would mean for New York's larger, older Armory Show, which takes up the massive piers 92 and 94 on the West Side Highway. There's some overlap between the two, with New York galleries like Andrew Kreps and Marianne Boesky buying booths at both. The Armory, however, lost some smaller names (with great programs) to Frieze, like James Fuentes and Canada, who both showed in the contemporary portion at Armory in 2011.
The smaller ADAA Art Show, which coincides with the Armory every March, features a lot of galleries doing either Frieze or the Armory, and in the case of David Zwirner, all three. It was already noted when we broke the news of the Armory's exhibitor list this morning that Mr. Zwirner opted out of the fair in 2011; he's returning this year. Marianne Goodman is doing Frieze and ADAA, Peter Blum is doing Armory and ADAA, Marlborough Gallery is doing both Armory Contemporary and Modern and Elizabeth Dee is just doing Frieze. But don't forget Ms. Dee's Independent Art Fair held at the old Dia building in Chelsea! It's happening in March and features some great galleries, like Jack Hanley (also doing Frieze), Andrew Kreps (who we already mentioned is doing Armory and Frieze) and David Kordansky (a Frieze man, as it were).
Phew. Did you get all that? Frankly, our head hurts.
Also there's NADA, who will be holding their own fair in May, likely coinciding with Frieze. The exhibitor list hasn't been released yet so we won't speculate–but we know for sure that if you want to reach us between March and May, we'll probably be too busy running around to art fairs to pay attention to you. Sorry!