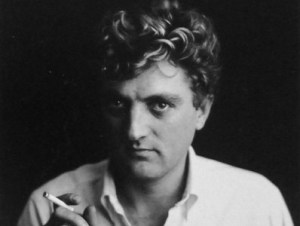 Ask anyone about Walter Robinson, and they mention three things. The first is his art: the skill in his figurative work; the audacity of his spin paintings; his quasi-disappearance from the art world. "He is one of the most underrated, unknown, undervalued artists of the late 20th century," Barry Blinderman, director of Illinois State University's galleries and one of his former dealers, said.
The second thing that comes up is his wife, Lisa Rosen, a tall, slim brunette. In the '70s, she met Edit deAk, a onetime friend and collaborator of Mr. Robinson's, at the rock club CBGB and visited the loft Ms. deAk shared with Mr. Robinson—"We used to roller skate in it, it was so enormous; it was fabulous," Ms. Rosen recalled. She left for Europe, worked as a model and learned art restoration. After returning to New York in 1999, she ran into Mr. Robinson at a Julian Schnabel opening. They married in 2009.
The third thing people mention is Mr. Robinson's omnipresence as a journalist. "I wouldn't say he's a gossip but he always knows what's going on," writer Glenn O'Brien said. "He's so likable that people like to talk to him, and he's pretty discreet."
"He has one of the most munificent, open-minded, sharp-eyed takes on the art world," New York magazine senior art critic Jerry Saltz said. "He's got an amazing bullshit detector."
> Click to see images from Walter Robinson's career.
"In the late '80s, I met him at an opening at White Columns," Time Out editor at large Howard Halle recalled. "He's sitting there, and he goes, 'You know, I see you as being a little bit like me. A behind-the scenes-guy.'" Mr. Halle paused. "Well, thanks, I guess. You can last a long time when you're behind the scenes. Maybe now he's trying to get in front a bit."
In early December, on the Wednesday morning after Art Basel Miami Beach, the weeklong art fair that brings much of the international art world to Florida to party, politick and ogle more than $2 billion worth of art, Mr. Robinson, who has been editor in chief of the online Artnet magazine for 16 years, was back in his studio in Long Island City. He was sitting next to the nose cone from a fighter plane, discussing his career.
"When the art world wants you, it will come and get you," he said. It was pouring rain outside, and he had just finished popping off the rubbers shielding his leather shoes. He continued in his nasally voice, "Serendipity, that is the only way I can function."
On the nose cone, which was standing upright, he'd painted images of men and women—classic cinematic types—for a show that his old friend, the curator and critic Carlo McCormick, was organizing at the Pima Art and Space Museum, in Tucson, Ariz.
Three years ago, Helene Winer and Janelle Reiring, the owners of the Chelsea gallery Metro Pictures, presented a retrospective of paintings that he had made in the 1980s. It was only his second New York solo show in two decades, but a fair number of the pieces sold, and he used the proceeds to rent a studio for the first time in a few years.
"Helene really had to drag me out," Mr. Robinson said. The Observer must have looked skeptical. "Yes, because I'm such a—what is it?" He paused and smiled. "A wilting flower."
In larger cultural circles, Mr. Robinson may not be a household name but in New York's art circles there is, in a way, no one who is more ubiquitous or whose life better reflects the exigencies of the New York art world over the past 40 years.
"He's an old-fashioned hipster of a noble and vanishing sort," New Yorker art critic Peter Schjeldahl said.
Two years ago, when Mr. Saltz accepted his award for critic of the year at artist Rob Pruitt's Academy Awards-style Art Awards, he opened his speech by saying that Mr. Robinson, a rival nominee, should get a MacArthur Award. We asked him about that. "Are you taping this?" Mr. Saltz asked. We turned on the recorder. "Walter Robinson," he said, "should get a MacArthur Award."
Why isn't Mr. Robinson better known for his art? Some of his early artist colleagues—members of the so-called Pictures Generation—are in the news this year. Next month, Cindy Sherman will have her second retrospective at the Museum of Modern Art, and Mr. Prince, who had his own retrospective at the Guggenheim in 2008, and who is currently embroiled in a multimillion-dollar copyright lawsuit over a recent series of paintings, will be the subject of an exhibition at the Museo Picasso in Málaga, Spain.
In 1986, the last year he showed new work in New York, Mr. Robinson wrote an essay called "The Quest for Failure," in which he made a cogent, if half-serious, case for it. "With success becoming so common," he wrote, "the only way to remain unique is to fail."
In the fall of 1968, Mr. Robinson, who was born in Wilmington, Del., and raised in Tulsa, Okla., moved to New York to attend Columbia University. He had vague ambitions to be an artist or writer. "I say that I majored in smoking pot and chasing girls," he said. "But actually I majored in art history and psychology."
Back then, Mr. Robinson—Mike Robinson at the time, a childhood nickname—was rail thin and had wavy blond hair, which he sometimes grew out. "I understand that he was a devastatingly handsome young man," said Mr. Halle, who met him in the 1980s. He's filled out a bit now, and his hair is gray, but he's still handsome.
At Columbia, Art in America magazine editor Brian O'Doherty recruited Mr. Robinson and two fellow students—a striking Hungarian woman named Edit deAk and an American, Joshua Cohn—to write reviews. "It was very difficult for me," Mr. Robinson said. "I remember I was in great agony." Ms. deAk was baffled by the offer. "I thought, aestheticism must be in trouble if they want baby blood," she told critic David Frankel in 2005.
After graduating, in 1972, the three moved downtown, Mr. Robinson to a $220-a-month loft in Tribeca, and they enrolled in the Whitney Independent Study Program, a year-long course that was becoming a proving ground for future art world cognoscenti. Later, Mr. Robinson moved to a huge loft on Wooster Street, where Ms. deAk was living.
It was a fertile time for art writing and publishing, and the deAk-Robinson-Cohn trio began putting out a journal, Art-Rite, on cheap newsprint. "We wanted people to throw it away," Ms. deAk once told an art historian. "We didn't want to contribute to raising the value of art."
"Magazines like Artforum were so adult," Mr. Robinson said. "If you look back at those Art-Rites, we were so immature." The tone was irreverent; the content varied. One issue might have a poem by painter Sylvia Sleigh, photographs of recent performances and an interview with a critic like Irving Sandler or Lucy Lippard.
"They were wild," Ms. Lippard said of Mr. Robinson and Ms. deAk. "Art-Rite was populist, political and cutting edge."
Artists designed the covers. Ed Ruscha photographed a wax candle shaped like a devil for the front, an angel for the back. Pat Steir's had three roses, each a different color. "They hand-printed all of them on the floor of the loft," Ms. Steir told us. To make the print, they used a potato. "It was cheap," she said. "No one had any money."
Production costs were minimized by surreptitiously using the equipment of the Jewish Week newspaper, where Mr. Robinson had a day job as a production manager. "I was the office goy," he recalled. "It was very cute." The trio laid out the magazine on weekends until, one day, another employee happened to visit the office. Mr. Robinson was fired.
"When you're young, you do all of these things without thinking about the consequences," Mr. Robinson said.
While producing the magazine, artist Sol LeWitt, Mr. Robinson and Ms. deAk, along with a handful of other artists, founded Printed Matter, the now-nonprofit bookstore located in Chelsea. He bartended and made the social rounds. "He fucked every girl in the art world in the '70s," said Mr. McCormick.
Eventually a love triangle developed among the editors. "It wasn't really a fistfight," Mr. Robinson said. "He hit me. It was like in a movie, where you get hit, and you just get up and there's no damage. I was like, 'I don't want to fight you.'"
Uli Rimkus, Mr. Robinson's first wife, is the proprietor of the bar Max Fish on Ludlow Street, just below Houston. She started it in 1989, long after their marriage ended, but a small painting on wood by Mr. Robinson rests on a shelf behind the counter. There's a kitten on one side and colored dots on the other.
A German artist with pale blond hair, Ms. Rimkus first visited New York in 1977, and flopped at the Wooster Street loft, eventually falling in with artists organized under the name Collaborative Projects Inc. "All our friends were doing Colab, and so I did too," she said.
Among the group were future stars like Kiki Smith and Tom Otterness. Mr. Robinson joined too, and sometimes played in "cardboard bands" with his colleagues, brandishing a handmade guitar or saxophone, air-playing to a record player.
"They weren't savvy about the art world at all, and in fact they were highly suspicious of it," said Soho dealer Brooke Alexander, whose gallery was on West 57th Street at the time. Colab worked outside the official art world, taking over public space for shows.
"Colab was basically a scam to get federal funding," Mr. McCormick said over coffee at the Pink Pony, next door to Max Fish. Government groups had cash, and Colab used grants to fund artists' projects. Mr. Robinson became part of the core of Colab and served as president in 1981.