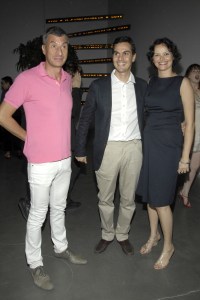 Contemporary artists cannot stop opening art galleries. To wit, Maurizio Cattelan is venturing into the art-dealing business again, according to Artnet's Rachel Corbett, and Sam Pulitzer and Matthew Malouf are launching a gallery in a garbage can on the fifth floor of 179 Canal, Art in America's Brian Boucher reports.
Let's begin with Mr. Cattelan–who, to be fair, is now a retired artist. His gallery is called Family Business, and it sees him partnering again with New Museum curator Massimiliano Gioni, with whom he ran Chelsea's Wrong Gallery–which was nothing more than a glass door–a few years back. (Wrong partner Ali Subotnick is not included in this venture.) Update: the gallery will operate as a nonprofit, and no work will be for sale.
Family Business, which is located in a 125-square-foot section of Anna Kustera's West 22nd Street gallery, is set for a February opening, and Artnet reports that artist Marilyn Minter has been lined up to curate the first show.
Meanwhile, Messrs. Pulitzer and Malouf are planning to christen their garbage-can space–William Gallery, located at 179 Canal Street–on Jan. 28, with a show of flyers and ephemera by the late, great Jack Smith that is being curated by Olivia Shao and Jay Sanders, the lapsed art dealer who is co-curating the 2012 Whitney Biennial.
Here's an excerpt of William Gallery's very elegant curatorial statement: "…the program is generated through a constant dialog between social networking, personal recommendation, inter-generational collaborations and garbage." Sounds great.
Curiously, the William proprietors appear to have cribbed a bit of that statement–a section about "a glut of delirious information"–from the press release for Zak Kitnick's superb recent show at Clifton Benevento. Is there a Drake-Common-style feud brewing?
Who is your favorite artist dealer? Emily Sundblad? Mark Kostabi? Marcel Duchamp? Feel free to share your thoughts in the comment section below.