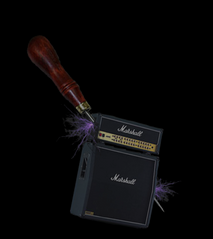 Longreads-approved website The Awl—run by Radar, Observer, and Gawker expats Alex Balk and Choire Sicha—is coming up on its third anniversary! Since they've launched, they've spun off three blogs from the mothership, general ladies'-interest site The Hairpin, comedy blog Splitsider, and most recently, gadget blog The Wirecutter.
And as of today, they've now launched a…Tumblr…radio station…of music videos, AwlMusic.TV.  DJ'd by them, and run by Eric Spiegelman, he of Old Jews Telling Jokes.
Maybe it's just best to let them explain.
This went out today to those on The Awl's fortnightly email newsletter listserv:
So we all have dumb, regrettable New Year's resolutions, and one of mine was to bring back this fabled, sad, discontinued, ridiculous newsletter. Yes! This very one that you hold now in your inbox-hands!

Most of you will have changed your email addresses by now, and some of you will have moved on with your lives in different ways. Maybe you've given up your cats for babies, or moved to Patagonia (I always forget that's a real place!) or simply have just gotten off the Internet.

But for those few who remain, I salute you. I'm here too! And please be the first (and actually only) ones to be invited to Awl Music, a weird little project of ours with Eric Spiegelman. It's curated by guest DJs and ourselves, like a radio station, and it plays in random order our latest queue of favorite songs. (Yes, you can skip.) We're getting the jump on The Future here, when we all have Google TVs or whatever. But really? It's totally just for fun and giggles, and uses a dreamy interface. (You can also see it in action at Throw Your Media, where Eric displays all his favorite web films.)  It's technically a Tumblr even, so you can "follow" it like the kids do, from the "inside."

ANYHOO. We're just trying it out on the hush-hush. Just us chickens. So please bust out some headphones at your desk, see how it goes for you.

See you again next week? It seems likely! I'm going to ease into this. Nice and low volume. Only with cool things. (Though there might be something cool to send you tomorrow or Friday, so, you're warned.)

xo

Choire
The Awl

PS Don't be alarmed if this is all mangled or something. Think of this as a test email, really! If it all goes horribly wrong, we can laugh together. YOU'RE THE BEST.
The Observer opened up Awl Music to receive the sweet sounds of rapper Lil' B. We later came upon a "bump" of this bedazzled bear dancing: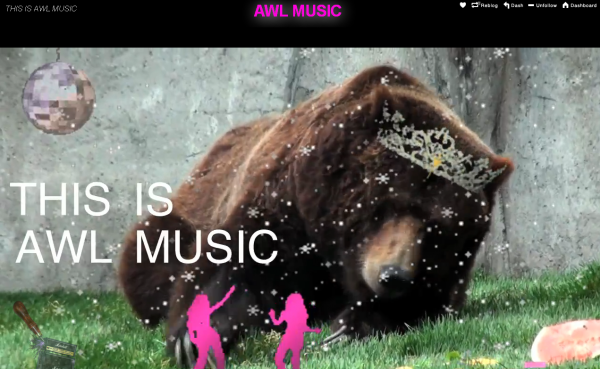 Why the secrecy? It's all quite fun and neat! Give it a whirl!
fkamer@observer.com | @weareyourfek