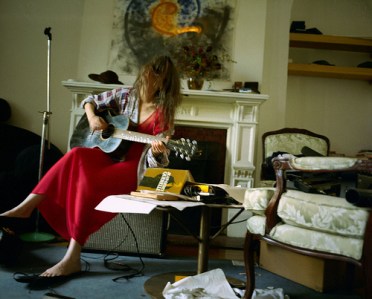 Patti Smith has come out in defense of her imminent gig at the Chelsea Hotel, releasing a statement that includes bullet points underlining her reasons for organizing this Thursday's soirée. "My small performance for the tenants was my own idea." She said, distancing herself from any collusion with the owners, "My hope is that we might have a nice evening and the opportunity to communicate directly."
Having gone through a series of major identity crises of late—mainly due to it's new owner the Chetrit Group—the iconic Chelsea Hotel is becoming more synonymous with eviction notices and U.S. Environmental Protection Agency recommendations, than with it's housing of literary and musical giants of the past.
The catalog of changes new owner, the real estate developer Joseph Chetrit, has spearheaded, have been too much for some to take. From the removing of artwork that adorned the walls for decades to filing of eviction cases. Most recently these hazy disagreements have come to a head in court over the botched and protracted effort to renovate.
Last December the Chetrits were told by a housing court judge to clean up renovations, after a report found samples that showed 10 to 40 times the recommended lead safety levels in the air. The case is due to go back to court on the 20th, with the tenants battling over which companies are hired to check their apartments for damage.
With that in mind, one could be forgiven for suspecting alternate motives for the timing of Thursday's private gig. But Ms. Smith, who has had stints living in the Hotel in the 70's, 80's and 90's is adamant that she is not a pawn, "I am an independent person, not owned or directed by anyone. My allegiance is to the Hotel itself, and I have done nothing to tarnish it."
"Thanks Patti, for responding," wrote Ed Hamilton, of the 'Living With Legends' blog that's dedicated to the Hotel. "If you are worried about the building being leveled, you can put your mind at rest—it's landmarked and can't be torn down." Mr. Hamilton wrote about the core of the tenants concerns, "We are worried about who the rightful tenants are going to turn out to be". He signed off on his post by saying, "If you want to give a concert for us great,  but chose a neutral venue, one where Chetrit will not be sponsoring you.
"We still think you should cancel your event in the ballroom."
The tenants have now scheduled a "die in" at 8 o'clock tonight to coincide with the concert.
Oh to be a fly on the wall on Thursday night… Ebay anyone?