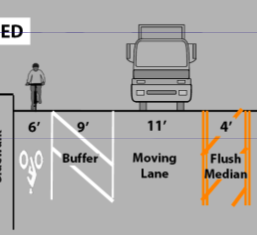 As if there were any question that the bikelash would continue for another year, it is only the second day of the year and the stories have already begun popping up. The Brooklyn Paper called the Prospect Park West bike lane fight one of its stories of the year, and now it looks like brownstone dwellers are not the only NIMBYs wary of new bike lanes.
According to Crain's, businesses along Greenpoint Avenue are opposing the extension of the boulevard's bike lane over the Greenpoint Avenue bridge and into Queens. Cyclists celebrate it as an important safety improvement on a popular bike route, one that needs extra protection given the prevalence of heavy truck traffic on the strips.
But the potential loss of some 50 parking spaces has local businesses worried about their health.
"The community board wants safety first but also wants to balance businesses' needs," said [community board transit chair Karen] Nieves.

As some businesses see it at this point, that may not be possible. Andy Tsai, assistant branch manager at Scrap King, a scrap-metal yard located near the entrance of the bridge in Brooklyn, fears trucks won't be able to get into his warehouse.

"If they can't come in, sometimes they go to a competitor," he said.
This is not the first time Greenpoint has seen such a fight. The DOT wants to add a bike lane to West Street, as part of the waterfront greenway, but industrial businesses their also fear for their future. It is an increasingly serious problem as residential encroachment grows in these former factory wastelands.
Indeed, the north Greenpoint waterfront is already scheduled for massive redevelopment. The bike lanes are only the first chink in the armor.