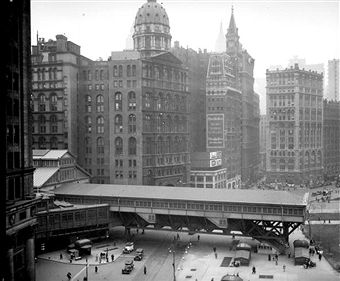 Downtown Brooklyn developers and cooperators, with a hefty helping hand from the real estate lobby, threw everything they could at the Borough Hall Skyscraper Historic District, a new landmarking effort aimed at saving the area's historic highrises. In the end, the preservationists won out, as a City Council subcommittee voted unanimously yesterday to approve the historic district, all but ensuring its passage by the full council on February 1.
There were some interesting compromises that may not have fully assuaged concerns in Downtown Brooklyn but will hopefully go a way toward addressing any problems in the future. The co-op board at 75 Livingston Street was one of the loudest critics of the proposal. Brooklyn Councilmen Steve Levin, who represents the area, and Brad Lander, chair of the landmarks subcommittee, released a joint statement yesterday celebrating the passage of the district but also calling on the Landmarks Preservation Commission to go easy on the co-op.
"We want to particularly recognize the co-operators of 75 Livingston Street and praise them for their stewardship of the building over the past decade, as they have spent millions restoring their building after years of decline," the councilmen said. "Given their hard work and investment, we ask the LPC to work with the board of the building, and to show maximum appropriate flexibility as they move forward in their efforts to maintain the building without imposing hardships on the co-operators."
Another new wrinkle, one that will have citywide implications, is an announcement by the commission to revise how it reviews storefronts, another major issue for landlords. Instead of lengthy public reviews, these will be handled at the staff level. "These new guidelines will allow many more new and relocating stores—in Downtown Brooklyn and around the city—to obtain a quick, staff-level approval for exterior work," the councilmen said.
"After close consideration," they concluded, "we believe that this new historic district will strengthen the character of Downtown Brooklyn, allowing for new development and growth, like the new retail space planned for the Municipal Building, while preserving the graceful, historic, early-generation skyscrapers that make it Brooklyn's civic center."