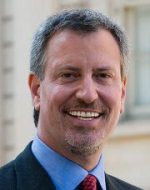 Public Advocate Bill de Blasio, a likely mayoral candidate in 2013, didn't mince words when Roberto Perez recently asked him about Mayor Michael Bloomberg and teacher evaluations. The Mayor specifically referred to the United Federation of Teachers in his recent State of the City speech while calling for various education reforms.
"I was very disappointed in the Mayor's speech, I have to tell you that," Mr. de Blasio began. "I think the Mayor, after 10 years, has sort of re-declared war on the UFT. And I could not understand why that was productive."
Mr. de Blasio contrasted Mayor Bloomberg's style with that of Governor Andrew Cuomo.
"I think Governor Cuomo has shown us what a forceful but still cooperative approach looks like," he said. "I think he's gotten a lot done by saying to labor, and saying to a lot of other interests, there's a way to get on the same page."
Although Mr. de Blasio also criticized the Mayor on other issues, including paid sick leave, living wage legislation, and fingerprinting food stamp recipients, he did say he was "pleasantly surprised" by Mayor Bloomberg's call for an increase in the minimum wage.  "I was glad the Mayor called for an increase in the minimum wage," he said. "Bluntly, it sounded like a pretty minimal increase."
The comments come as the UFT is engaged in an aggressive $1 million television ad campaign targeting the Mayor.