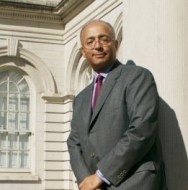 Shortly after he pulled off a shockingly close second place finish against Mayor Michael Bloomberg in the 2009 mayoral election, former Comptroller Bill Thompson declared his intention to run again in 2013. Since then, Mr. Thompson remained relatively under the radar causing some City Hall watchers to question whether he'd make good on his promise to take another shot at the mayor's office. At the TWU Local 100 rally last night, The Politicker spoke with Mr. Thompson about his plans for 2013.
Mr. Thompson said he's definitely going to be in the race. He also rejected the notion he's been too quiet and gave us his take on Mayor Bloomberg's third term.
"I've made it very clear, I'm definitely running. I'm not thinking about it, I am running," Mr. Thompson said. 
Mr. Thompson said his campaign has been "ramping it up for months now."
"I've been out there and in front of groups all across the City of New York," Mr. Thompson said. "People are saying, and other electeds and other people are saying that they see me more. Those in the press have been saying, 'Jeez, we haven't seen you.' And I'm like, well I'm out there and here's where I've been."
Mr. Thompson is bullish about his chances of making it to Gracie Mansion.
"I think that I bring incredible experience to the table; great background both in the public and private sector, executive experience, former chief financial officer for the City of New York," Mr. Thompson said. "I know New York City, I know the people and I believe that, as the campaign unfolds, I'll be able to present a vision for all New Yorkers. So, I'm confident that I'm going to be the next Mayor of New York City."
Mr. Thompson also gave us his assessment of the third Bloomberg term he nearly thwarted.
"I think rather than ask me–and I may be a little bit biased, ask New Yorkers. I don't think New Yorkers have been very complimentary of the Mayor's third term," Mr. Thompson said. "I think that people–everything from Cathie Black, to snowstorms, to so many other things, to really just what is the vision for the third term. I think New Yorkers have said they're not happy with the direction of his third term and what's going on in his third term. So, don't ask me, ask New Yorkers what do they think."
In 2009, Mr. Thompson faced doubters who thought it would be impossible for him to defeat Mayor Bloomberg, an incumbent who spent over $100 million on his re-election effort. This time around, though City Council Speaker Christine Quinn's fundraising success and impressive early polling has some observers pegging her as the frontrunner, Mr. Thompson isn't worried about another second place finish.
"I think that this time around, the one thing that will happen, no one will ask the question, can I win," Mr. Thompson said. "I'm confident that I'm going to be the next mayor."