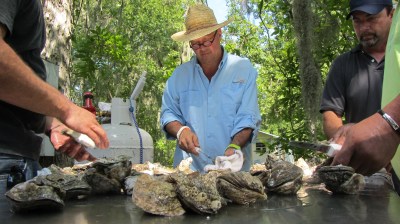 Here's a foodie tip: Do not go into a meal with Travel Channel star Andrew Zimmern if you're hungry. Even if you're at such a delectable West Side eatery as The Spotted Pig, and the host of Bizarre Foods provides some of the most interesting dinner conversation you've ever had, you will hardly be able to eat a bite. And that's before he starts talking about Miss Manners dilemma of whether or not to eat human foreskin if it's offered as a dish of honor in Africa. (Apologies to our very sweet dining companion, who groaned "This is a publicist's nightmare!" when the topic was brought up.)

Over a dimly lit (and thank goodness for small favors) appetizers of pickled herring, chicken liver toast, and bacon-wrapped dates, Mr. Zimmern boasted of the Spotted Pig's bravery. "They were on the pig thing before everyone was on the pig thing. They were one of the first gastropubs in New York that weren't afraid to roast a pig's head!" the big man exclaimed. (And he is larger than life: Mr. Zimmern stands at 5'10 and is amply wide enough to prove that he doesn't just peck at those weird dishes we've watched him eat over the past six seasons.)
Over the course of 100 episodes, Mr. Zimmern has devoured everything from jellied moose nose to cane rat; raw goat scrotum to fresh cow blood obtained by shooting a hollow dart into a bovine during a trip to the Ngorongoro Crater.
"Aren't you worried that some of these foods will, um, make you sick?" we ask, while choking down the slithery herring. "Or kill you?" Mr. Zimmern previously hosted a short-lived show called Dining with Death which never caught on with the public's imagination.
"How so?" the 50-year-old, self-described "old fashioned Jewish kid from Brooklyn" asked back.
"A lot of food can be dangerous; when you buy produce from the supermarket, you don't know what kind of insecticide or pollutants you're about to consume."
This has hit a nerve with Mr. Zimmern, who later goes on to sigh about the lack of diversity in American shoppers' baskets. "Everyone is eating carrots…no one will even try radishes," he grumbled with good-nature.
We try a different tactic. "So what attracts you to bizarre food?"
"Nothing, what attracts you?"
"Nothing!" we exclaim. At the very least, we don't think we are, though we assume it's all relative. We like sushi, and that's kind of weird, right? For the entirety of middle school we also chewed paper like it was gum, and hid the soaked wads in the bottom of dresser drawers and in the back of cabinets out of embarrassment. But technically that doesn't count as "eating." Or "food."
"Here's my take," Mr. Zimmern says, letting us off the hook before we admit we might have Pica. "I believe food is the divining rod for discovering what makes a good culture tick. The best way to do that is to find good stories, and the best stories are always fringe."
"Think about it this way," Mr. Zimmern continued. "There's not about mainstream cinema that gets me excited," he said by way of example. "But if you have a knowledge of cult films, you begin to see how these commercial products were influenced by these great, weird movies. And it actually makes the commercial product more enjoyable. I don't sit at home and watch Stan Brakhage movies, and there's only so much Werner Herzog I can take, but by watching and trying to understand them, I have a greater appreciation for other films in that genre. It's the same thing with food…I would be doing this if there were cameras around or not. It's my passion."
Our main course had arrived. We had played it safe with the pork belly, but after a mouthful we suddenly didn't want the chewy fat in our mouths.
"I love eating bugs," Mr. Zimmern told us, digging in to his skate. "I've eaten bumblebees, grasshoppers…the chapulines in Mexico that are roasted with chilies are delicious. I mean, there are some bugs that I just don't find that palatable. Hissing cockroaches are fine, but they just aren't my thing."
We tried to finish chewing, couldn't, and discreetly folded our pig back into our napkin. But Mr. Zimmern isn't out to Fear Factor anyone: using donkey semen to gross out contestants (and viewers) with gentle stomachs could be considered the opposite of Mr. Zimmern's ethic. Instead, Bizarre Foods focuses on the community aspect of meals: how one man's wildebeest eyeballs is another man's centerpiece for family time.
Still, after the story about drinking cow blood in porridge, we had to ask…would the fringe foodie ever consider…you know…eating human?
"I'm not trying to be gross or provocative, but we ingest human fluids when we have sex," Mr. Zimmern said. "We bite our fingernails, we suck on blood from a cut. That's not cannibalism, but it's just a fine line. In some culture's they consume part of an animal because they believe it becomes part of you…tiger paws, gorillas, that type of stuff. They want to make the animal's spirit a part of them."
"When I was in Madagascar, I thought during a circumcision ceremony I attended with one of the local tribes that I would be forced to eat a 5-year-old's foreskin. I was the honored guest, and it was handed to me. I balked; I really didn't know what to do. Consuming other people has a lot of risk for disease. Luckily, the foreskin is consumed by the maternal grandfather traditionally, so he let me off the hook."
Mr. Zimmern had to leave then, to catch the premiere of the 7th season of his show, leaving us off the hook as well. "We'll just get this to go," we told the waiter.
Bizarre Foods airs on Monday night at 9 p.m. EST on the Travel Channel.