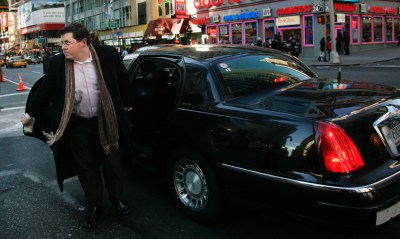 Livery cab services, better known as "those black cabs you hail down on a Saturday night in Brooklyn when you can't find anything else, and who end up charging you $25 to go from Williamsburg to the Lower East Side but what are you going to do?" (or alternately: "Those cars that take you to the airport,") are getting their rides pimped out by the city.
Yes, your favorite part of regular taxis–those looping segments of Talk Stoop, weather reports, and Jimmy Fallon segments will be coming to a shady backseat near you. Honk! But here's the good news: those little television screens won't be a requirement for black cabs as they are for the yellow, making them already 100 times better.
As the city spent the better part of last year fighting over the addition of the 18,000 livery cabs being allowed to pick passengers up off the street (instead of calling the car service and requesting them), the question now is how to make them more legitimate and palatable to wary out-of-towners…and cynical in-towners…who don't want to pay the dubious and confusing rates for the cabs. With plans to add credit card readers to their vehicles and standardized fare, New York's Taxi and Limousine Commission has solved half its problem, as no one in New York ever carries cash anymore.
Having a way to pay for a taxi with your card while being able to avoid the annoyance of pressing the "Off" button on your nauseating tiny TV  with no results…well, that's something you can't put a price on.