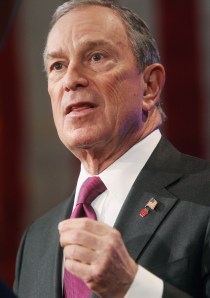 New York Mayor Michael Bloomberg mentioned culture initiatives only briefly in his State of the City address, at the Morris High School in the Bronx today, though he did note a few projects with which his administration will be involved over the next year, chief among them a new nonprofit called Space Works, which, he said, "will create long-term affordable rehearsal and studio space for artists citywide, including on Governors Island."
Also appearing in the speech were mentions of the Bronx River Art Center, where a new media center and gallery are being created as part of an ongoing renovation, and the Queens Museum of Art's current expansion program, which will double its size.
Mayor Bloomberg emphasized that his is an administration that keeps its promises. "We said we'd open the new section of the High Line, break ground on the new Whitney Museum and complete the expansion of the Museum of the Moving Image," he said, "and because of the leadership of Commissioners Amanda Burden, Kate Levin and Katherine Oliver, we did."
We'll be back in Jan. 2013 to see how this Space Works program–which sounds a little bit like an aeronautical company, right?–panned out.