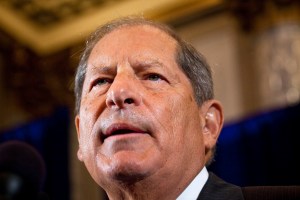 Republican Congressman Bob Turner was not impressed with President Barack Obama's State of the Union address. He released a statement after the speech criticizing it as "more rhetoric than realistic policy."
"The loss of the Keystone Pipeline project, the implementation of job killing regulations and the President's healthcare plan have left our economy stagnant and Americans uncertain," Congressman Turner said. "Instead of addressing these issues, President Obama plans to add more regulations, red tape and complicated tax policy into his plan increasing our country's economic uncertainty."
Mr. Turner was elected to represent New York's 9th Congressional district in the special election to replace Anthony Weiner last year. He rode the Weiner scandal and a wave of Tea Party support to victory in the traditionally Democratic Brooklyn/Queens district and has been a sharp critic of the Obama administration ever since.
The 9th District has a largely Jewish population and Congressman Turner has aggressively courted their votes by loudly advocating support for Israel and a hawkish stance on Iran. In his State of the Union response, Congressman Turner suggested President Obama "glossed over" the dangers posed by Iran.
"The President's speech about our country's future glossed over the greatest threat to our nation- a nuclear Iran. Our foreign policy cannot be based on appeasement or discussions with brutal dictators. President Obama absolutely must show the American people and our allies that he is willing to use all resources available to ensure Iran is never able to develop nuclear weapons. From tougher sanctions to military force, all options must be on the table."
Though President Obama did stress his desire to find a "peaceful resolution" to the situation in Iran in the State of the Union speech, he also indicated he would consider a military option.
"Let there be no doubt: America is determined to prevent Iran from getting a nuclear weapon, and I will take no options off the table to achieve that goal," President Obama said. "But a peaceful resolution of this issue is still possible, and far better, and if Iran changes course and meets its obligations, it can rejoin the community of nations."
Congressman Turner finished his statement by urging the president to focus on more than mere rhetoric.
"This is not the time for a victory lap," Congressman Turner said. "This year, the President's actions must speak louder than his words."