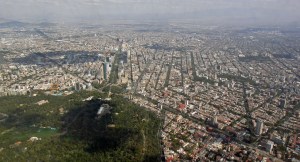 Usually it's the established, powerhouse dealers that open multiple branches: Gagosian with its 11 galleries in 8 cities, Hauser & Wirth with its four in three. Recently, though, a few smaller players are beginning to follow suit. Cleopatra's has spaces in Greenpoint and Berlin, for instance, and now the Lower East Side's Anonymous gallery, started only in 2008, just opened a branch in Mexico City–the Distrito Federal.
"There is an energy in the art scene here that has so much potential," Anonymous founder Joseph Ian Henrikson told Gallerist. Mr. Henrikson first visited the Mexican capital in 2010, when he helped bring an exhibition called "The Draw Show," with curators Erik Foss, Curse Mackey and Miguel Calderon, to the Museo de la Ciudad de Mexico, which had work by Raymond Pettibon, Dan Colen and a trove of others. The show had debuted in New York at the Fuse Art Gallery, located in the East Village's Lit Lounge.
Anonymous's Mexico City location is located in the Roma neighborhood, a tony tree-lined area of the capital that has become home to many contemporary art galleries, and measures about 3,000 square feet. Anonymous's artists include David Ellis and Greg Lamarche, who may be joined by new artists based in Mexico. Right now the gallery is preparing a show called "Casa de Empeño," which is "based conceptually on the function of a pawnshop," according to a news release, and includes Orly Genger, Richard Kern, Matt Jones and others.
"There are some very substantial collections here in Mexico City," Mr. Henrikson told us, noting that the number of young collectors in the city is growing. The Zona Maco art fair that takes place every April in the city has attracted a fairly impressive group of international gallerists, and regularly generates some of the best Artforum Scene & Herds of the season.
Real estate, perhaps unsurprisingly, is cheaper in the D.F. than it is in New York, but that doesn't mean that the financials are necessarily any easier for a young gallery there. "What we don't spend on rent, we definitely spend on shipping," Mr. Henrickson said. "It definitely equals out."