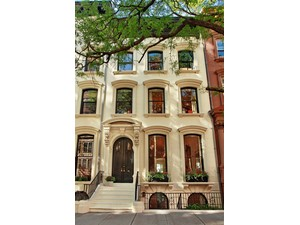 Say what you will about our beloved hipster borough, but it seems that Manhattan's South Easterly sister is moving on up. A single family townhouse in Brooklyn Heights has just sold for $11 million, city records show.
The 7,000-square foot home at 212 Columbia Heights rivals most UES townhouses, and the sale may very well ring in a new era of Brooklyn luxury buys. According to a listing from Corcoran agents James Cornell and Leslie Marshall, the abode was built in 1885 and underwent a full facelift in 2005 when the current owners purchased it. Fortunately, the owner preserved "all the glorious original detail" throughout the renovation.
The home boasts seven bedrooms and 5.5-bathrooms, five fireplaces an 14-foot ceilings on the parlor floor and every floor features views of the harbor.
Oh did we mention Barack Obama has visited the home? The place was formerly owned by literary agent Nina Collins and her hedgie husband Marek Fludzinski who hosted a fundraiser for the big man in 2007.
Ms. Collins and Mr. Fludzinski bought the home together in 2005 for $8.95 million, but the deed was transfered to Ms. Collins when the couple separated (ultimately leading to a bitter, violent divorce). According to city records, Ms. Collins paid $4.25 million in 2006 for the house as part of the divorce. While the divorce may have been difficult, Ms. Collins is laughing all the way to the bank, as she effectively made a $7 million profit on the sale. The buyers purchased anonymously through an LLC.
Although it managed to fetch an eight figure price, the 7,000-square-foot home was sold far below the asking price. The place went on the market in September with a $13.5 m. ask, according to StreetEasy. Maybe Ms. Collins was hoping for an Obama mark-up?