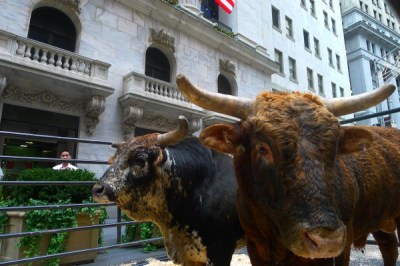 PBR (Professional Bull Riders) stuck two of its finest bulls in front of the Stock Exchange this afternoon, in a bid to promote this weekends opening of the Built Ford Tough Series at Madison Square Garden. 
They also had on hand, two championship bull riders in Douglas Duncan—ranked 16th in the world—and current champion Silvano Alves. Mr. Duncan told The Observer of the friendly reception he has received the last two years. "I love the city. People see you in the street with a cowboy hat and they look at you bit strange…but they're always friendly. I can tell that they're interested."
The bulls, caged but not sedate, stood guard at the entrance of the Stock Exchange taking umbrage with anyone who tried to use his camera, including us.