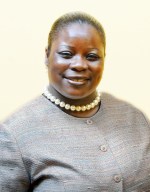 It was only this weekend that Hakeem Jeffries announced his bid to give up his Assembly seat to run for Congress, but already a candidate has emerged to take his place in the legislature.
Olanike Alabi, a veteran district leader in the 57th Assembly district is set to announce her candidacy later this morning.
"I am extremely proud to officially announce that I am a candidate for the New York State Assembly – 2012," said  Ms. Alabi in a statement provided by her campaign.  "As the Democratic State Committeewoman/District Leader for several years, I have served the constituents of this district. I know first-hand how far we have come—and I am keenly aware of what is needed to move our district forward."
Ms. Alabi is currently an administrator with 1199, one of the city's largest and most powerful labor unions. She previously worked for the late City Councilmember Mary Pinkett.
Walter Mosley, a former State Senate aide and Ms. Alabi's fellow district leader, is also thought to be looking at a possible campaign.