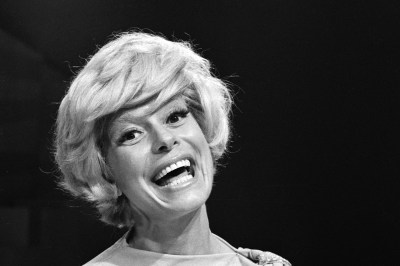 I've always regarded Carol Channing as a walking alarm clock—tall, cherry-lipped and dinner-plate-eyed with a head as big and yellow as a sunflower—tick tock, tick tock. But according to director Dori Berinstein's new documentary, Carol Channing: Larger Than Life, the frazzled dodo captured best in legendary caricatures by her friend Al Hirschfeld was a superficial image she cultivated for the entirety of her professional life, aided enormously in the effort by the only two famous and important roles of her career—gold digger Lorelei Lee in Gentlemen Prefer Blondes and meddling matchmaker Dolly Levi in Hello, Dolly! She invented them both, but her greatest invention has always been herself. Offstage, out of makeup and eyelashes and wigs like 20-pound piles of white farmhouse insulation, she was about as dumb as a brain surgeon turned rocket scientist, with a roaring IQ and a humanitarian heart as big as her bustier. Real life, as it turns out, was not always a turkey dinner. Like Judy Garland, she was no stranger to tears. Director Berinstein is too much of a fan to reveal it all. The result is cinematic Botox—a puff piece masquerading as a biopic, designed and edited for fans, drag queens and loyal chorus boys she always treated like family members because in reality she had none of her own. As a serious documentary, it is charming, sycophantic, peppy, endearing and, it must be admitted in all honesty, ultimately one-dimensional.
Don't get me wrong. I love Carol Channing. The movie is almost totally made up of stock footage and posed photo ops—Carol and Miss Piggy, Carol and Louis Armstrong, Carol marching to "Before the Parade Passes By," Carol stopping the show with Angela Lansbury and Chita Rivera at the Kennedy Center Honors for Jerry Herman, Carol on the cover of Life, Carol reducing Gene Shalit to hysterics on the Today show, Carol in London, Carol on tour with her worshipful gypsy dancers, Carol kissed and celebrated by every star in the world and every president in the White House except Richard Nixon, who put her on his infamous "enemies list," probably for throwing him a Woolworth rhinestone instead of a Tiffany diamond. Old pals like Marge Champion, Lily Tomlin, Rich Little, Betty Garrett, Bob Mackie, Tommy Tune and Phyllis Diller drop in to add flavor. The visuals are a joy. But a good documentary should not show only the footlights but illuminate the shadows behind the stage as well. There isn't one shot of Carol intimately unloading the dark corners of her heart in moments of heartbreaking intimacy or candor. (The same problem weakened the recent biopic about Joan Rivers.) Three failed marriages before her fourth and final one to her seventh-grade sweetheart, Harry Kullijian, do not add up to a bed of tulips. But she never comments, and the director makes no attempt to invade her privacy to reveal any of her true feelings.
What does she really think about Charles Lowe, the gay husband-manager she depended on 24 hours a day for 42 years before she sued him in an ugly divorce scandal? He was a power freak—cold, distant and controlling. Unfortunately, one of the things he controlled was her money. But did he really steal everything, including the millions she earned, then sell off her scrapbooks, etchings, photos and memories, leaving her bankrupt and desperate? We get Debbie Reynolds, always good for a pithy quote, calling him a crook and a thief and jokingly comparing him to her own disastrous husbands, but we get nothing from Carol, licking her wounds. Charles Lowe died before the divorce was final, unable to answer the charges or defend himself. Like any amateur Sherlock, I smell smoke, but nobody in this movie makes a move to cool the embers. Why else has Carol's only son, Chan, fathered by her second husband, football player Alexander Carson and then adopted by Lowe, refused to speak to his mother for the past 15 years? Now a prize-winning political cartoonist in Palm Beach, his own biographical info on the Internet makes no mention of his mother at all. What's the story, morning glory? There were years of success, followed by huge absences and lapses of work. But you gotta applaud her passion, dedication and discipline in keeping the legend alive. The curtain went up more than 5,000 times on Hello, Dolly! and she never missed a performance except for half of a show one night when she was felled by food poisoning in Kalamazoo. When she was battling ovarian cancer she would fly to New York every Saturday night, sleeping on wooden airport benches waiting for her plane to take off, undergo painful and grueling treatments all weekend, then return to the town where she was on tour in time for the Tuesday night show. Always the consummate trouper, she told her understudies, "Don't worry about learning the part—you'll never have to go on," and she meant it. She survived every setback with the rabbit's foot that had stuck by her side from her stage debut at the age of 7, which is why she named her 2002 autobiography Just Lucky I Guess. "It's funny creating a part," she says. "It's yours for eternity." Well, that was not exactly true with Lorelei. When Marilyn Monroe shimmied into Carol's role in the legendary movie musical of Gentlemen Prefer Blondes, everybody forgot the original. But Hello, Dolly! was another story. (Just ask Barbra Streisand.) The timing for Dolly, according to Jerry Herman, was different. It was written for Ethel Merman, who turned it down, but when it opened in 1964, Carol didn't just lease the stage. She owned it. It opened on Broadway after the assassination of President Kennedy, when America was ready for two hours of fun, frolic and farce, and eager, as the old song goes, to "forget your troubles and just get happy." She's been playing it ever since. Now that she's 90 years old, she'll probably play it for eight more bars and out—in a wheelchair.
After 70 years, her childhood flame, Harry Kullijian, read a kind mention of his name in her book, and materialized, like Banquo's ghost. Depressed and broke, she needed another man to manage her life. He married her, moved her to Modesto and gave her a future by forming a partnership to bring the arts to public schools. Harry is as much a part of this movie as Carol. The scenes where she takes him on a tour of her Broadway haunts during the years when their paths came close to crossing but didn't, he accompanies her to unveil her star on the Palm Springs sidewalk of fame, and they revisit their old childhood neighborhood in San Francisco, are genuinely touching. The movie is full of gaps, but what you get is the sense that the real person behind the willowy blonde from Bennington College with a voice like a Greyhound bus with a faulty carburetor has always been a conundrum: push-pull, secure-insecure, superior-inferior. At the heart of her emotional stress was the feeling that the theater was her only home. You get the sense that in the past brief period of all that, Harry gave her a new definition of security. Then, just as Carol Channing: Larger Than Life was completed and ready for release, another misfortune: Harry died just before Christmas, on the eve of his 92nd birthday, and a grief-stricken Carol has gone into seclusion, unable to do any of the requisite publicity to promote the film. "The safest place in the world to be," she says, "is center stage."
Flawed but bittersweet and enjoyable, this film may be the final chapter in a colorful and illustrious life. Frail and exhausted, her voice unsteady and scarcely able to carry a tune, Carol Channing is bent, but her spirit is indomitable, her throaty laugh buoyant as always. Wow, oh, wow, fellas. Look at the old girl now, fellas. Let's hope Dolly finds her way back to center stage and never goes away again.
rreed@observer.com
CAROL CHANNING: LARGER THAN LIFE
Running Time 87 minutes
Written by Dori Berinstein and Adam Zucker
Directed by Dori Berinstein
Starring Carol Channing, Loni Anderson and Mary Jo Catlett
3/4