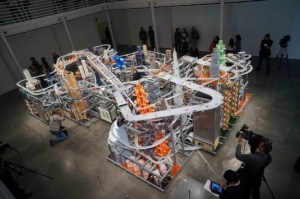 An article published by the AP about artist Chris Burden's latest work—Metropolis II–says the piece is the artist's prediction of the future. And what does the future hold for Chris Burden? No traffic jams, presumably.
Metropolis II is a sculpture made of 1,100 miniature cars racing along 18 miniature roads through 25 miniature buildings–structured like a giant stack of snaking highway through a large city–at the scale equivalent of about 230 miles per hour.
"That's about the speed they should be running," Mr. Burden said in a documentary filmed in his studio a few months back, before the piece was moved to the Los Angeles County Museum of Art. You can watch that interview about the making of the piece–it took four years–in this video. (Just moving the sculpture, by the way, took several months.)
The cars are powered by a system of conveyer belts and magnets. The piece rests in a specially designed gallery at LACMA, where it will remain for ten years. According to the AP:
"By the end of that time, Burden believes, we'll be living a real-life version of 'Metropolis II,' with real cars racing across the hillsides and over the freeways of Los Angeles, putting an end to traffic gridlock. Oh, and by the way, those cars won't have drivers in them, just passengers."
Sounds fun! And possibly incredibly dangerous. But, Mr. Burden says, "I don't like driving in Los Angeles." Fair enough.