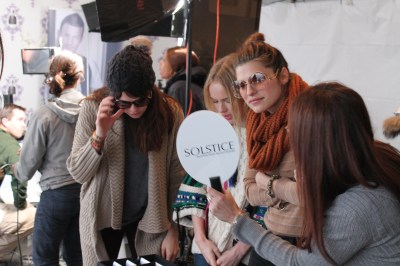 While it seemed most of the action at the Sundance film festival had been happening at night behind colossal bouncers, The Observer caught wind that there was an equally exciting, yet slightly bizarre, scene taking place in the light of day: celebrity gifting suites. We took the opportunity to start our day a bit earlier to see what all the commotion was.
First stop: The Bertolli Meal Soup Chalet Hosted By Gen Art
New York's own Byrdie Bell let us ride shotgun as she had her war paint applied by the Finns from Lumene Cosmetics, from whom The Observer dodged a graciously offered full male makeup treatment: "Don't you want your eyes to pop like hers?" (We kind of did.)
Justin Long squeezed through a pack of iPhone wielding moms to pick up a pair of shades gratis from the Solstice team, who had just successfully equipped Kate Bosworth, Lake Bell and Katie Aselton—none of whom could determine if they liked skiing over snowboarding.
Andie Macdowell's still got it. Like, really still has it.
Next stop: Talent Resources gifting suite (someone told me they had free Cream of Wheat samples)
Bumped into producer Malcolm Pullinger of Wholphin and McSweeny's fame, who joined our investigation into these Cream of Wheat rumors.
SNL's Nasim Pedrad leaned over a tall counter to snag herself some shwag from Sean John, noting that she really likes "the boy stuff, how 'bout that cardigan?" The team was all too happy to oblige.
Cream of Wheat CENTRAL!
Moving right along: The Gansevoort gifting thing
Are you a celebrity? Do you have feet? Do your naked feet need Sorel boots? These were the hard hitting questions being lobbed at John Heder by boot babes as he laced up.
Everyone is wearing these freaking boots, getting the vibe that everyone may also be a little drunk.
Looks like there's a football game on? Back to the soup mongers to check in on the Giants
OH MAN Christina Hendricks – hang on though, who's this dude she's with? Googling…Googling…she's married!?!
Luckiest man in the world, Geoffery Arend everybody!
Nap time.
Nursed back to health, The Observer hopped a cab back to main street to see what The Bing Bar had to offer
Is that Andrew Keegan? Where the heck has that guy been? Oh right – practically living at The Bing Bar.
Cobra Starship, expressing that they indeed had the capability to "go to eleven, if necessary" serenaded the crowd with more than their fair share of sweeping arpeggios.
Park City Live: Let there be Deadmau5
Waiting for Deadmau5, aka. Joel Zimmerman to assault the stage with his signature brand of electronic dance music, we run into Tenjune's Eugene Remm at his table stageside: "Can you believe this shit man? They have a pour limiter on our bottle service!" The Observer momentarily commiserated with the frustration of not being able to drink more than one shot of Patron simultaneously.
Uh oh: the sound system is struggling. Zimmerman takes the stage.
Promptly blows 3 speakers.
Still somehow lights the place on fire, despite kind of phoning it in.
A quick pitstop at Chris Masterson's birthday party, and we're headed back to Tao
We copped a squat on a banquette with the hard-to-miss king of clubs Noah Tepperberg, as he reigned over a roundtable in the house he built. We canvassed Noah on how he got here, who after promising to reveal to us at a later date told The Observer, "You don't want to know how the fuck I got here." We absolutely did.
Fresh off the premiere of his film Red Hook Summer, director Spike Lee set up shop with a hulking posse directly in front of DJ Sinatra's dj booth, immediately proceeding to do their thing.
Our ears are broken.