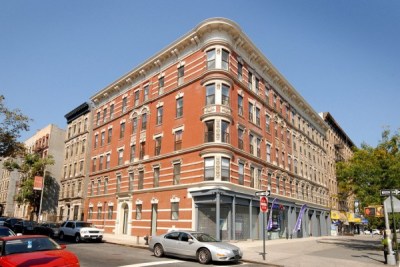 Community Board 10 has found itself between a rock, a hard place and a new luxury building. After overwhelmingly rejecting a proposal to house non-criminal developmentally disabled young adults in one of Harlem's new high-end apartment building, the  community board is re-thinking their blanket opposition to "special interest housing," DNAinfo reports.
In the initial proposal, a local nonprofit proposed buying two condos at the Savoy West to house seven developmentally disabled men. The pre-war historic building was recently renovated and represents the new breed of luxury condos in Harlem: a gym, 24-hour concierge, on-site laundry and rooftop terraces.
Community Options, the non-profit hoping to buy the apartments, planned to use the condos as a group home for young men with intellectual disabilities who have aged out of the foster care system.
The board had voted against the plan — 33-to-2, with three abstentions — because it believed there was already an abundance of "special interest" housing, such as drug treatment centers, halfway houses and group homes in Harlem. In 2008, the board approved a moratorium against approving any similar housing.

"We feel that as a community board we have more than our fair share of special interest housing," said Stanley Gleaton, who leads the board's land-use committee, in explaining the board's recent objection. "It's nothing against people with disabilities."
Community Options representative Eileen Egan, however, claims that it is unfair to compare the seven-person group home to larger special-interest facilities in the neighborhood. "They are lumping us in with other kind of facilities," Ms. Egan told DNAinfo. "The community board is counting a 200-bed nursing home as being in the same category of a three-person residence for the intellectually disabled."
Perhaps realizing the heartlessness of its ways, Community Board 10 is reviewing their initial rejection of the plan.
eknutsen@observer.com