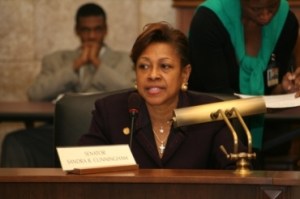 TRENTON – Sources say she's ready to pull the trigger on a 2013 run for mayor of Jersey City, but state Sen. Sandra Cunningham (D-31), Jersey City, isn't ready to go there yet – at least publicly.
"There's an exploratory committee and we are looking at it but I have not made a final decision," Cunningham told PolitickerNJ.com. "The election isn't for some time."
Right now, incumbent Mayor Jerry Healy and downtown Councilman Steve Fulop are declared candidates.