After handling its leasing at 535 and 545 Fifth Avenue internally, The Moinian Group has tapped a Cushman & Wakefield team as the exclusive leasing agent for both buildings, The Commercial Observer has learned.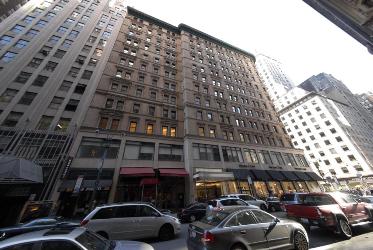 A team lead by Andy Sachs, an executive director at the firm, along with with Ben Shapiro,Jonathan Fales and Myles Fennon will now have oversee both buildings–at a combined 532,400 square feet of overall space–-under its care.
The buildings, a 36-story office tower at 535 Fifth Avenue and a 14-story property at 545 Fifth Avenue, are located in the Grand Central Plaza district.
"There's obviously a lot of competitive space in Grand Central and [the Moinian Group] realized they have a lot of competition so they went out and went through the process to hire us," Mr. Sachs told The Commercial Observer.
Each office building received "substantial" renovations, including a complete overhaul of the lobbies and decorative upgrades to the bathrooms and corridors, Cushman & Wakefield officials said.
The buildings have a range of spaces that are available, from 1,500 square feet to 20,000 square feet.
"We're looking at just upgrading the curb appeal and the profile of the buildings so they have a little bit of a better identity," said Mr. Sachs.
The team is close to announcing an architect for future renovations.
There will be new pre-built standards that will have "lots of glass, more modern in look and feel, so that we can get more light in this space," he added.
A 19,311-square-foot office space on the third floor of the 535 Fifth Avenue is currently being demolished, with an option to break through into 545 Fifth Avenue and link up the two floors for more than 30,000 square feet of combined space, said Mr. Sachs.
"This 532,400-plus-square-foot pair of properties located two blocks from Grand Central offers unique floor plates of up to 32,000 square feet in one of New York's hottest commercial corridors," said Greg Weisser, executive managing director at The Moinian Group.
The Moinian Group's Carmel Kashani will act as an additional onsite leasing agent for both buildings.