Whether it's revitalizing an old property with hip new tenants, or reassuring an established firm that its current address is the right fit, David E. Green showcases the kind of commercial real estate savvy that has earned him trust among an eclectic portfolio of clients.
Mr. Green's peers recognize it, too, and that's why the Cushman & Wakefield executive director has been named this year's Real Estate Board of New York "Young Real Estate Man of the Year" recipient.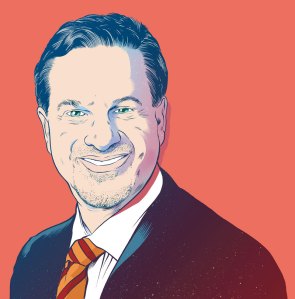 Last year, The Commercial Observer profiled the 25-year real estate veteran's success with turning around the arguably staid 2 Park Avenue, which once boasted blue-chip clients like the Hartford insurance company and Newsday during the 1980s, but had since seen its more prestigious clients flee to other submarkets—or out of the city altogether.
Mr. Green, 47, was able to spin the Midtown Art Deco building into a hip property once again by expanding the lease of Internet company Gilt Groupe and moving its offices into a 100,000-square-foot space. The online retailer, which offers customers limited discounts on upscale fashion brands, had already subleased space from Yahoo. But when Hartford chose to pull up stakes last fall, it made the bigger commitment—with Mr. Green's help, of course—to expand its presence in the building.
"They felt that in the last few years the building had started to redevelop," he told The Commercial Observer last month. "The area had become more cool, more hip. They felt they were part of that."
Gilt Groupe's presence in the landmark building, meanwhile, helped lure designer handbag company Kate Spade to a 95,000-square-foot space inside the property, further boosting its cred as a cool place to work.
Not only did he give shelter to some of the city's youngest and most creative companies this year, he also renewed several major leases among the city's most coveted pool of white-shoe law firms.
In March, he assisted Lazard Frères in its renewal of a 21-year lease in its 400,000-square-foot office space at 30 Rockefeller Center, tethering one of the city's top boutique financial firms to Midtown.
Mr. Green's quarter-of-a-century-plus experience as a power broker for top city landlords like Harry Macklowe, Vornado Realty and Equitable Real Estate Investment Management has also made him the go-to agent for Wall Street titans like Morgan Stanley and CWCapital.
A capstone of his career, to give just one example of his prowess on Wall Street, was signing the New York Stock Exchange to a 350,000-square-foot lease renewal at 20 Broad Street in 2000.
But with the times rapidly changing, staying on top also requires focus. Indeed, a veteran like Mr. Green keeps up on the trends in the industries and the problems looming on the horizon. Clinging to modernity, Mr. Green believes, will be one of the largest challenges for Manhattan's oldest buildings.
"The aging stock of Manhattan's office-building inventory is a concern as tenants are increasingly looking for buildings that are technologically advanced to handle their business needs," Mr. Green said.