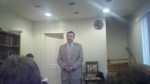 David Storobin, an attorney and official in the Brooklyn GOP, spoke before a Tea Party group yesterday afternoon and gave his pitch for why voters should elect him in the special election to replace former State Senator Carl Kruger now that Mr. Kruger is currently on his way to jail for corruption. Although the candidates have not been selected yet, Mr. Storobin and Councilman Lew Fidler are likely to be the Republican and Democratic nominees respectively. The Republican's stump speech relies heavily on his biography, especially his experience as a Russian immigrant in America.
Mr. Storobin began by describing a childhood experience where he was extremely upset that he couldn't find a notebook before his first day at school. "I show up, and nobody had a notebook, including the teacher. Not a single person, in a city of 450,000 people, was able to buy a notebook," he said.  The economic situation was so poor that his mother, teaching at a medical school, had to bring her own light bulbs to her classes.
"All of you knew more about Mars and Neptune than I knew about the United States," he additionally recalled. "I remember somebody said that in the United States they have washing machines. My mother said, 'No.  No way.'" He went on to describe growing up poor in Brooklyn with a single mother who didn't speak English, and how that impacted his governmental philosophy. "The problem with poverty, beyond everything else, is not really the lack of money but the lack of standing in the community," he said. "The point isn't that the government should help, the point is that I'd like to be a respected person in society."
Mr. Storobin leaned on his experience with the Soviet Union to inform his broader economic ideology as well. He spoke of being a young child unable to get to school because the government buses were increasingly late, eventually stopping altogether. After a while, the government decided to lease out the buses to private owners. "Suddenly there was a bus at every stop, you didn't have to wait two seconds," he said. "As soon as they allowed some free enterprise, you didn't need any government control."
Although the candidate was focused on his personal biography and attitudes, he did delve into specific issues, hitting his likely Democratic opponent on gay marriage, tax hikes, private school tax credits, and more.
Councilman Fidler is generally considered the frontrunner at this early point, but Republicans are more than optimistic thanks to recent GOP success in the area, including Congressman Bob Turner's upset win last summer. Governor Cuomo announced today that the election will be held on March 20th.
Watch the video below: