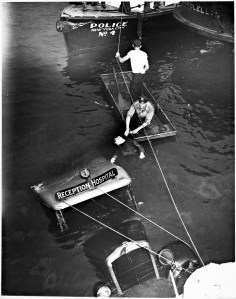 The dead are easy to photograph because they stay still. So said Weegee, the tabloid documentarian of New York's murders, car crashes and tenement fires. He found work and made an identity for himself photographing the small-time crooks, petty thugs and hard-boiled gangsters who defined the city's seedy fringes during the Great Depression. His crime-scene pictures appeared in the dozen dailies competing to cover the city's news, and a selection of photographs, newspapers, documents and films from the first decade of his career, 1935-1946, is now on view at the International Center of Photography (ICP).
Like the best New Yorkers, Weegee was from elsewhere. Born in 1899 in what was then Austria and is now the Ukraine, he was brought to the Lower East side by his father, a hat salesman and part-time rabbi. In America, the boy's name went from "Usher Fellig" to "Arthur Fellig." His seemingly uncanny ability to arrive at crime scenes at the decisive moment earned him the name Weegee, a reference to the Ouija board. His photographic work owed nothing to clairvoyance, however, but was made possible instead by his acquisition of a police radio and the invention of the flash bulb around 1930: the portable bursts of daylight it provided made his gritty, high-contrast night shots possible. He lived across the street from police headquarters, and when tapping into the force's news with his radio wasn't sufficient, he'd follow the sirens to crime scenes. Once there, his flashbulb made blood, guns and ladies' nylons appear glistening black, and flesh stark white; by being fast, and being first, he got the shots others couldn't.
Weegee loved his subjects, and it showed. Murderers were, in his words, "very nice people." His genius lay not merely in capturing the bloody bodies, but in preserving the action that took place around them. In An East Side Murder (1943) young boys in baseball jackets and men in hats strain for a glimpse of some unseen corpse and, for a moment, murder is bald entertainment. Tenement residents crowd rooftops to peer at a neighborhood arrest; Little Italy fire escapes become the box seats to crime's street theater. In Their First Murder, the death of a con artist outside PS 143 in Williamsburg is the occasion for a scene in which smiling boys and girls are taking in the sight of a bloody mess: a man stabbed 48 times with an ice pick. These simple, black-and-white photographs of, for instance, a corpse covered save for shoes polished to a high shine, or two friends in a crashed car waiting for an ambulance (one bloodied, the other gently threading his lips with a cigarette), are equal parts gruesome, brash and tender.
Like other photographers—from Nadar to Terry Richardson—Weegee didn't just shoot his subjects, but tended to his brand. A "swarthy, pleasant, uncultured man," as he was described in his day, with Steve Buscemi eyes and an Orson Welles forehead, Weegee photographed himself constantly. He used a cable release to stage self-portraits of himself at work, like the one in which he peers at a corpse found stuffed into a trunk near the Gowanus Canal. In another, he holds a defused bomb and its timer. In a third, he sits in the back of an old car,  his teeth clamped on a cigar, typing with one finger while holding a flashlight in his other hand.
In 1936, the year after he started his freelance work, his self-portraits took the form of an educational series that showed him going through the procedure of central booking: getting arrested, being searched, at the station house, standing in a line up and, finally, locked behind bars. These are savvy, self-promotional prints demonstrating not his access to the cops but his identification with the criminal. He dressed like a low-rent gangster, in slept-in looking suits, and was never without his trademark cigar.
ICP has re-created his studio apartment at 5 Centre Market Place, where he lived from 1934 to 1947, and it gives a window onto the private world of a sociable loner: a desk, a twin bed, an old Corona typewriter, a bunch of cigars, suitcases, burnt-out flash bulbs and, of course, invoices: "2 murders, $35" reads one check paid out by Time.
Outside his work for newspapers, Weegee exhibited his photographs with New York's Photo League. Photos by Aaron Siskind and Helen Levitt give some context to his documentary impulse. But Weegee's work wasn't really meant to be seen as fine-art photography, in the form of perfectly produced and framed prints. His best images were made to be seen as ink on newsprint, and to be painted out, filled in, blown up or run small, and generally altered for the needs of the press, as the negatives and photographs in various stages of this process on display demonstrate. In his 1941 gallery exhibition he pinned his works six to a sheet on cardboard with extensive, sensationalistic handwritten captions, as if he had had trouble imagining the work standing alone, and dripped red nail polish in for blood. There was something to this fear: the work doesn't look as urgent as it does when framed by tabloid headlines in the New York Post.
Weegee didn't present his subjects as worthy of charity or pity, but instead simply showed the joys, terrors and pleasures of neighborhoods like the one in which he grew up: children playing in hydrants, or, in Tenement Penthouse (1941), sleeping nine to a bed with a tiny kitten in their midst. His wasn't an activist vision of Depression-era realities, but rather a more brutal and carnivalesque one. Never pedantic, as his photorealist peers could be, Weegee's take on the era is as blunt as the caption on one of his photographs: "A midget arrested in a vice case." The Lower East Side often appears as a single body that is, by turns, celebrating, grieving, watching arrests, sleeping.
Weegee's lesser-known work as a filmmaker, on view here, shows that his photographs were collaborative affairs. In the absence of subjects, Weegee's New York (1948) is a colorful but ultimately empty 16mm fantasy. Absorbed and enchanted by the formal beauty of the city—the windows of tenements, long pedestrian shadows on the sidewalk, blinking neon signs reflected on a wet street at night—the film has no narrative, but does have an abstract logic and appeal. A second film, Coney Island (1948), has a little more heart: an endless pink carpet of girls and boys lounge on the beach, making out and generally having fun. His flirtation with film wouldn't end in the 1940s, though: Weegee later worked as the still photographer for Stanley Kubrick's Dr. Strangelove, and the accent of its namesake character, played by Peter Sellers, was rumored to have been based on Weegee's own.
The show's images, drawn entirely from the  ICP's vast collection, give a portrait of a young freelance photographer working out of Williamsburg, Gowanus, Little Italy and the Lower East Side. The exhibition could do without its soundtrack of police sirens, and the elaborate touch-screen displays seem out of place among so many archival artifacts. But ultimately, Weegee emerges as an entertaining character. His guiltless taste for hustle, human emotion and the bloody beauty of the city at night prove the point from a comment book from the 1941 Photo League exhibition: C. Stelhier writes, "These photographs are ample proof that if anyone knows NY it is Weegee."
editorial@observer.com