You would think: There you are, you've made it to the New York Times. You, with all of your hard-work, talent, and moxie have lead yourself to a place Gay Talese identified—in the title of his book on the place—as The Kingdom. And how majestic is it, this Renzo Piano building. Nothing can stop you now.
Except for the persistent smell of burning animal flesh beginning from the moment you get to work.
If you didn't know, there are three very meaty restaurants right under the New York Times: a Schnipper's (burgers), a Wolfgang's (steakhouse), and an Inakaya (Japanese skewered meat). The way these restaurants ventilate isn't exactly charming.
For example, if you've ever walked by the entrance to Inakaya during dinner, the smell of hot, cooked meat blasts passers-by in the face in the same manner opening a car door in the middle of the summer would, except the car is made of skewered Japanese meats. It is gross.
Apparently, the evening pedestrians of 40th street aren't the only ones to experience this savory sensation. The New York Times' Dealbook writers are having an olfactory overload of umami up in their journalism. It all started when Times reporter Susanne Craig noted: "NYT Breaking Food News: Team just arrived to inspect #meatcloud." She included a picture of the gaping, meat-emitting hole in the building now being worked on: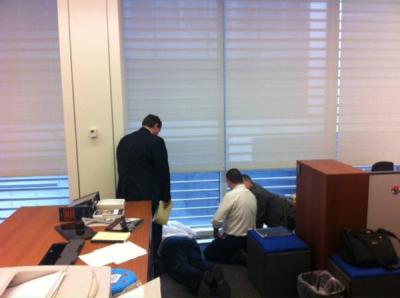 Ms. Craig has been dogged in her reporting on the #Meatcloud beat. It was only a matter of time before this happened: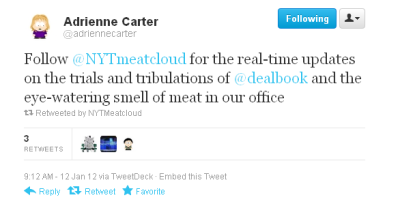 And yes, now the NYT Meatcloud is harassing Dealbook boss Andrew Sorkin, flirting with the NYT Fridge, and generally relentlessly torturing them. We've heard the stench has become so bad that more than a few Times reporters (looking at you, Ron Lieber!) are working from home until the stench relents.
Journalists under duress: It happens! Be strong, business writers. Vaya con (carne) dios.
fkamer@observer.com | @weareyourfek