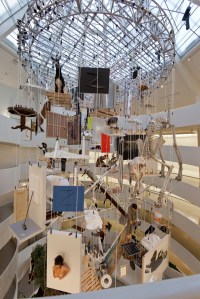 At 6 p.m. this past slushy Saturday, arty types packed the theater at the Guggenheim for a sold-out, seven-hour symposium, called "The Last Word," that marked the end of the Maurizio Cattelan retrospective at that museum, and the artist's avowed retirement.
The speakers discussed the end in all its forms. Marc Etkin, who wrote a book on suicide notes, shared a few choice selections ("P.S. I DIDN'T EAT THAT FUCKIN' SANDWICH," that guy shot up a mall), and Nancy Northup, president of the Center for Reproductive Rights, spoke to the freedoms granted by a fertility restriction. Salty sportswriter George Vecsey pointed out the parallels between Mr. Cattelan's hanging sculptures and the tradition that inspired the phrase "hanging it up," wherein retired athletes actually nail their jock straps to the wall.
Duchamp hung his readymades, said curator and dealer Francis Naumann, and later sold art, just like Mr. Cattelan once did with his Wrong Gallery. Duchamp retired from painting in 1918, and if his postretirement output (308 works!) is any indication, the art world has no reason to mourn the loss of his self-identified Italian counterpart, Mr. Naumann said.
The writer Rick Moody shared a series of readymade endings for stories. He signified that he was ending his endings by beginning his last sentences with an upward tick in voice that headed into a downward note, and then he boldfaced the last few words and brought his inward turned lips together for an inaudible mmm sound. Every time.
"He Now Plans / to run for / ELECTIVE. OFFICE. (mmm)," he said, turning a page at the lectern.
Headliner Courtney Love shuffled in way too early, around 9, took a seat midrow bookended by beefy bodyguards and frequently shook her hair. She'd arrived just in time for Slater Bradley's screening of his Doppelganger Trilogy, with its eerie footage of Ian Curtis, Kurt Cob ain and Michael Jackson, the last as he rehearsed alone on a stage. Matt Wrbican, chief archivist of the Andy Warhol Museum, wore a T-shirt for the artist's film Dracula, and led the audience in a "people's mic" reading of a New York Times review for a show at the Illeana Sonnabend Gallery in 1965 in Paris.
"As the guests invited to the vernissage," everyone said. "Began to drift into the gallery. Mr. Warhol began to describe himself. As 'a retired artist.' And spoke of plans to devote his life to the cinema."
The counterculture artist and writer Stewart Home told the audience of an "art strike" he organized in England from 1990 to 1993, and peeled back the levels of irony as best he could. In retrospect, he found the logo that he designed for the strike, a broken paintbrush, to be a bit easy.
When it comes to making art, he said, "I think it's much harder to stop than start."
"I'm just curious to know how much Maurizio Cattelan's dealer has stacked up waiting to be sold," he finished. "People think this is rare but it's a marketing move." He waved to the audience. "Thanks."