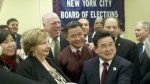 Councilman Peter Koo was surrounded by a throng of Queens Democrats and elected officials as he announced his party switch this afternoon, and it would be difficult to imagine a more overwhelmingly effusive crowd.
"We want to give a great Queens Democratic welcome to the newest member of … the City Council from Queens as a Democrat: Councilman Peter Koo," Queens Democratic Chair Joe Crowley began his statement, to applause of the smiling Democrats surrounding the converted Councilman.
"Peter joining this effort is a real boom to our party, and I think it's great for Flushing in particular. As John Liu, whom I'm going to introduce in a moment, points out, this is the Year of the Dragon. This is a very fortuitous year. This is a very important, jubilant year for the Chinese-American community. Peter, you're making it that much more jubilant for us."
"This is a great day," City Comptroller John Liu began, his hair covered in sparkling confetti from his Lunar New Year celebrations. Mr. Koo currently holds Mr. Liu's former Council Seat. "What a great day it is for this to be happening," he excitedly repeated again.
"As Chairman Crowley and Comptroller Liu said, this year is the Year of the  Dragon, which is a symbol of wealth, prosperity, strength and power," said Assemblywoman Grace Meng, whose district overlaps with Councilman Koo's. "And that's a wonderful foreshadowing of what's to come for the Queens Democratic Party, our community, and the Borough of Queens next year."
Councilman Peter Vallone was smiling as well. The number of conservative Democrats in the City Council, he beamed, "has doubled to two."
Needless to say, Queens Republicans are nowhere near as happy with Councilman Koo switching teams. Councilman Eric Ulrich somberly stated his disappointment last week, as did the GOP County Chairman Phil Ragusa.
Watch the announcement event below: