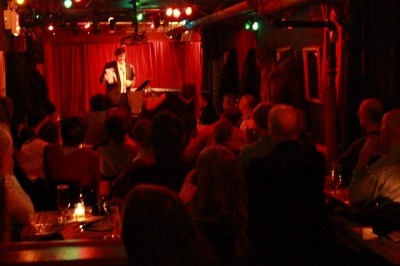 "Are you here for the poetry reading?", asked the constant stream of people that lined up outside Cornelia Café last Friday. "Yeah," was the steady response. It's not often you get lines more akin to those at Grimaldi's for a poetry reading, but then again, not every poet elicits the level of devotion that Charles Bukowski does.
Into its fourth year, the Annual Charles Bukowski Poetry Reading has steadily grown in popularity. "I think we're going to do two sets next year, we turned away as many that got in tonight", said Cornelia curator Angelo Verga.
The night is the brainchild of poets Kat Georges and Peter Carlfates, who emceed the night, "I'm half Greek, half Italian and from the Bronx," Mr. Carlfates said of himself, "three strikes from birth".
Inside, the bar staff were kept busy as you'd expect, with red wine a popular—and apt —choice of poison. One smartly dressed inebriated man, noticing our pad, barked at The Observer, while  someone was reciting on stage, "Oh, you gonna do a piece on the the bourgeoisie discussing Bukowski?" The man was shushed. (The gentleman's comment, it seemed to us, said more about his own neurosis (and sobriety) than it did the attendees, who made up as diverse a crowd as you're likely to find at any gathering; from 19 year-old, street-looking youths to eloquent octogenarians.)
They all jumped onstage full of enthusiasm, the poets and the pleebs, reciting Bukowski's work or paying tribute in their own words. "I don't actually agree with his advice to not think about poetry, I think there's a craft to poetry" said poet Bernard Block who recited his own poems; 'Shit: A Love Song' and 'Fuck You:  A Love Song'. Mr. Block cited his "general liberation of language and being able to express yourself on any subject using any language," as being Bukowski's great gift.
"He's real, he gets to me, even though he has poems that are offensive to women," said poet Linda Lerner, "you can almost taste and drink it, feel and touch it. It's real and it's still poetry, even though it's outside the whole MFA academic establishment." Which Ms. Lerner is well positioned to comment on, given that she is a part time teacher of poetry at CUNY, "poets don't teach full time" she said.
"Misogyny was just a part of success in the 70's, it was this mistrustful edge, it was 'why should we trust women?'" said Mr. Carlaftes, "Bukowski actually got over that, but that doesn't mean it didn't exist in his world and his writing was his world." Dana Ullman, originally from San Francisco had similar thoughts, "He's seen as this kind of lewd guy but in a way it's his truth in his life, everything he said is something he's perceiving."
"He became famous when he was 50, I mean who does that?" said Mr. Carlfates, "Most people know who they are when they are fifty, but he became a new person, who was still important, his words were still universal"
For the man who famously said 'don't try', Bukowski's work has become an industry in itself, with his publishers very much trying; no less than 13 posthumous poetry books have been released. "When he died they just started releasing this stuff," said Mr. Carlfates, before adding "He had cartons of poems, these are still his poems, but the heart doesn't seem to be in them like it was in my time. But maybe for the youth it is, so who am I to cut that off?"
"I think he was a much better novelist than poet," Mr. Verga confessed, "I frankly think he was a middle level maybe not even middle level poet, I know this is heresy, but he wrote great novels. In particular the novel Post Office, I think is the great American novel that people search for but he already wrote it. It's brilliant."
Mr. Carlaftes finished off the evening, reciting a rousing version of 'Poem For a Personnel Manager', then the clock struck eight and it was time to leave. Bukowski, in the pages of Women pondered on the attendees very dilemma, "That's the problem with drinking, I thought, as I poured myself a drink. If something bad happens you drink in an attempt to forget; if something good happens you drink in order to celebrate; and if nothing happens you drink to make something happen." Perhaps some in the crowd had that on their mind as they downed the rest of their drinks and readied themselves for the march to the next bar.
sduffy@observer.com