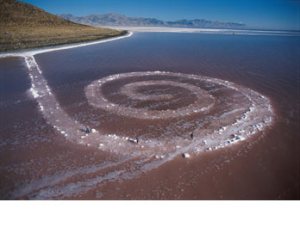 The Dia Art Foundation will join forces with two Salt Lake City organizations, the Great Salt Lake Institute (GSLI) and the Utah Museum of Fine Arts (UMFA), to help preserve Robert Smithson's iconic work, Spiral Jetty.
The news comes after a strange controversy over the summer when the Salt Lake City Tribune reported that Dia had lost its 20-year lease on the land where the giant rock sculpture, built in 1970 on the bed of Great Salt Lake, is located. Dia later refuted the Tribune story.
The lease has been renewed and a collaboration has been established between Dia, GSLI and UMFA to address stewardship issues with the work. Essentially, GSLI's role is to keep Dia informed of possible environmental issues that could impact Spiral Jetty. Dia first became acquainted with GSLI in 2008, when a Canadian oil company wanted to drill in Great Salt Lake near the sculpture; they were able to educate Dia on the possible effect such an intervention would have on Smithson's work. In addition to staying on top of potential biological impacts, GSLI will serve as an advocate for the sculpture's cultural importance along with UMFA, the official museum of the state of Utah (with several Smithson works in its collection).
"It is one of the most important artworks in the world," said Gretchen Dietrich, UMFA's executive director, "and is truly a state treasure."
"Dia's collaboration with GSLI and UMFA is an ideal situation, as it became clear to us that in order to be the best steward of the Spiral Jetty, Dia needed to build deep and meaningful partnerships in the community," said Philippe Vergne, Dia's director, in an e-mail message to Gallerist. "We benefit from their onsite expertise, and they benefit from Dia's profound knowledge of Robert Smithson, our national and international reach, and our experience in managing and maintaining site specific sculptures. Both GSLI and UMFA have demonstrated a sincere commitment to the Spiral Jetty and we look forward to working with them and with our partners at the Department of Natural Resources."