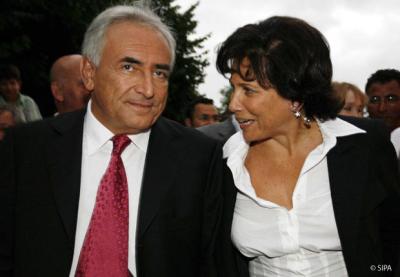 Le Huffington Post has found an editorial director in Anne Sinclair, wife of former I.M.F. director turned perp walk all-star Dominique Strauss-Kahn, reports L'Express.
Word reportedly got out because invitations to the site's launch party on Monday listed Ms. Sinclair as a host. The Huffington Post France, like El Huffington Post, is a collaboration between the AOL-owned blog behemoth and a local paper, in its case, Le Monde.
A rich heiress, Ms. Sinclair is widely known in France because she hosted an interview television show in the '90s. She quit when her husband (whose rape charges were dismissed but, come on, is still definitely a gross guy) was named the country's  finance minister.
This blog post might have been more interesting if Wikipedia weren't blacked out today. Fight PIPA!