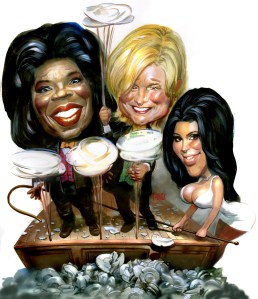 Martha Stewart spent her first five on-air minutes of 2012 doing damage control.
"I'm here to assure you that you will see me on television this fall," she said, tossing her blond bob so it grazed the shoulders of a sheer pink blouse.
"Our show was not canceled," she added with signature Yankee brusqueness. "What we're trying to do is to figure out a new way to do our show, just to keep evolution occurring."
Earlier this month, the New York Post and others reported that Ms. Stewart's long-running daily program, which moved to the cable Hallmark Channel in 2010, had been canceled due to low ratings. Adding insult to injury, the stories noted, Home Depot had decided to dump Ms. Stewart's personally branded line of wall paints.
Cribbing from the Kim Jong Il playbook, Ms. Stewart staged a display of her power, turning up at the 23rd Street Home Depot, where she praised the building's cast-iron details, to demonstrate to bewildered customers that it was business-as-usual in Marthaland. They could still purchase her paint colors; they would simply have to mix Martha Stewart-brand pigments—the whites, so the story goes, based on egg shells gathered in her hatchery and pasted into her Filofax—into a Glidden-brand base.
"They are selling like hotcakes, I am told," she said, gesturing to an array of the swatches propped up before her.
The news that The Martha Stewart Show was on the butcher's block (the Hallmark Channel neither confirmed nor denied the report) signaled the end of an era for the so-called Doyenne of Domesticity, a former Connecticut caterer who turned a monthly magazine and weekly half-hour how-to program into a publicly traded corporation, Martha Stewart Living Omnimedia, worth $1.87 billion in 2005. ("Omni-" includes mass-market merchandise.) The same week, papers reported that fellow daytime maven Oprah Winfrey was still struggling lead her network audience of six to eight million to the upper-register of the cable dial (115 on Time Warner Cable in Manhattan), where her one-year-old Oprah Winfrey Network (OWN) had landed. The New Year's Day premiere of Oprah's Next Chapter, a weekly answer to The Oprah Winfrey Show, drew just 1.1 million viewers, suggesting a once-revolutionary media archetype—the self-made goddess of self-improvement—had entered her declining years.