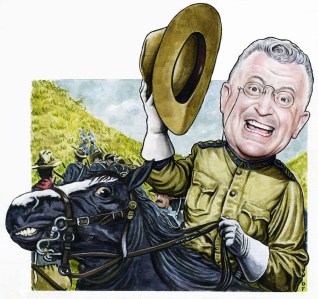 "THIS IS NOT SOME OPINION! This is a mathematical fact!"
In a now-infamous Aug. 9, 2011, taping, a cable news host has just boiled over at his assembled panel of guests. He's yelling, at full volume. "I've been coming on TV for three years doing this," he bellows, exasperated. "And the fact of the matter is that there's a refusal on both the Democratic and the Republican side of the aisle to acknowledge the mathematical problem, which is that the United States of America is being extracted!" He has now erupted. "It's being extracted through banking! It's being extracted through trade! And it's being extracted through taxation! And there's not a single politician that has stepped forward to deal with this!"
Five months and a couple hundred thousand views later, answering The Observer's call from a hotel room in San Juan, Puerto Rico, the 39-year-old host of MSNBC's The Dylan Ratigan Show sounded nothing like the man whose unhinged, frothing-at-the-mouth rants on unmitigated corporate greed went viral last summer. Nor did he sound like the man who frustrated Ed Schultz, of all people, to the point where he ended the segment in disgust, or the man who has been known to cut off guests completely. It didn't even sound like the guy whose favorite New Yorker was Teddy Roosevelt, and whose first book, hitting bookstores in barely a week, bears the unsubtle title Greedy Bastards!
Dylan Ratigan answered the phone sounding like a calm, collected New York City bachelor enjoying a tropical vacation. One couldn't help wondering if maybe the apoplectic, vein-popping madman wasn't perhaps a bit of a TV creation?
Not quite. Mr. Ratigan's rants, he assured us, were "100 percent spontaneous."
Even the notorious "extraction" rant, the episode the show's website refers to as his Network moment, was pure, unvarnished Ratigan, he insisted. "It's terrible and embarrassing behavior," he said. "It's unprofessional to behave that way in public, for God's sake."
Not that he regrets the outburst. "If I had just gone on and said those things, then no one would have watched it," he explained. "So I walk away and I'm like, 'At least everyone is going to hear about the bank extraction.' Not because they want to, because they want to hear Ratigan lose his shit. It's kind of funny," he laughed. "If I could do it on a premeditated basis, then I'd do it more often. I'd be more famous."
Instead, the host, whose live show airs weekdays at 4 p.m., said he would rather promote a more thoughtful sort of discourse. More calm, nuanced, and positive—conversation that is, in his own words, "fuelled by compassion."
MR. RATIGAN, who is 39, grew up in Saranac Lake, N.Y., the only child of a single mother, a social worker, whose Hungarian, Jewish father (a "hero" to his grandson) came through Ellis Island without knowing any English, but somehow built a flourishing carpet business. Mr. Ratigan's grandfather died in a work-related accident, climbing spools of carpet in his Astoria warehouse. "Having watched how hard that man worked," he said with a sigh, "you always kind of feel like … the nature of the work that I'm doing? It's really not that hard."
After graduating from Union College upstate with a bachelor's in political economics, he worked for a time as an auditor for parking garages around the city, winding up living in a townhouse owned by his boss. His neighbors happened to include Susan Brown, the ex-wife of Michael Bloomberg—"We used to sit in the garden and smoke cigarettes together"—and the couple's two daughters, Emma and Georgina, the three of whom he became friendly with. After leaving New York briefly to travel the country by train for a year (he was in his 20s, he explained: "It sounded like fun, so I did it"), he returned to the city and paid Ms. Brown a visit. She asked what he planned to do with his life; Mr. Ratigan had no idea. So Ms. Brown harangued her ex-husband about hiring the young man, and finally Mr. Bloomberg relented.
The timing was good. As Mr. Ratigan tells it, "The company was in the middle of an explosion of growth, and it went from 8,000 to 250,000 terminals while I was there."
At Bloomberg, Mr. Ratigan went from reporting on mergers and acquisitions to editing. He eventually landed on-camera, winning a Gerald Loeb award for his reporting on the Enron scandal. Despite his sometimes overbearing demeanor (most notably, a loud voice that sometimes caused Mr. Bloomberg scream at him lovingly across the newsroom to "Shut up, Ratigan"), he was ultimately elevated to global managing editor for corporate finance, a position created for him. He hated the work, though, particularly the endless rounds of meetings. He left the company for a brief consulting job with Boeing, and was eventually lured to CNBC, where he co-created and hosted the daily stock market analysis show Fast Money.