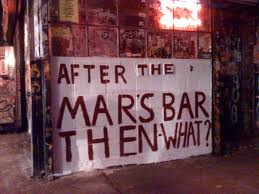 Last night, The Observer happened to be strolling around the East Village. From the free-range organic leather goods to trendy speakeasy boites, the East Village retail has visibly gentrified. But what about the residential side? With more tenements than townhouses, the East Village may never draw the moneyed marked enjoyed by the West Village. Developers are working diligently to erect glossy buildings in the neighborhood, however, in an effort to bolster the East Village's high end market, the Post reports.
Unlike other areas of the city, however, the East Village housing market isn't strong enough to support condo development. Rentals, in renovated or newly constructed buildings, seem to be the preferred real estate trend in the area.
The market right now is to build rental. You want to build affordable housing for young people," says David Amirian, principal of Brody/Amirian Group, which is developing 316-318 E. Third St., a rental building offering only studios and one-bedrooms.
The Mr. Amirian's building is just one of several similar rental edifices springing up in the area. At 74-Third (former home of storied soccer pub Nevada Smith where you may or may not remember toasting Hope Solo last summer), plans are underway for another rental building with retail on the ground floor. Another martyred dive, Mars Bar (where you may or may not remember doing Popov shots with the homeless guy from your block) will soon become a 65-unit building, the majority of which will be rentals.
Who are snatching up the apartments? Students and yuppies, of course!
"[The East Village is] young and up-and-coming, and there are a lot of young professionals who live there and a lot of students and a lot of grad students," Amirian says. "We are definitely looking for other parcels in the neighborhood."
In short, the former bastions of East Village grit are giving way to rental buildings where parents will pay for their NYU student to live comfortably and drink heavily.