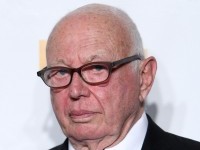 In this week's Talk of the Town section of The New Yorker, Peter Schjeldahl takes a trip to Ellsworth Kelly's studio outside Albany, N.Y., where the 88-year-old artist is not only still producing works, but is also charming as ever.
Mr. Kelly discusses his formative years in Europe, there's a handful of excellent anecdotes. Oh, right, you came here because of that headline. Here we go:
"On July 4th, two large relief paintings were permanently installed at the U.S. Embassy in Beijing—none too soon, Kelly remarked. The works, sponsored by the nonprofit organization the Friends of Arts and Preservation in Embassies, were unveiled at the White House by Laura Bush in 2003. But the ambassador to China at the time deemed one—a white horizontal panel cantilevered across the junction of a red panel, at the top, and a blue one, below—'too French.' (It was during the 'freedom fries' phase of the Iraq War)."
Read the whole thing here (subscriber only). Mr. Kelly was also recently profiled by Carol Vogel at The New York Times.