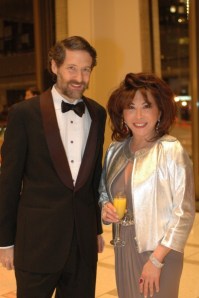 In traditional Chinese culture, the dragon is an auspicious creature, venerated as a symbol of wealth, imperial power and social prowess. Since 2012 marks the year of the dragon, according to the Chinese zodiac calendar New York society dutifully fêted the felicitous occasion with a grand party.
Lincoln Center (as ever) was aflutter with people as we approached. It was one of those non-winter winter nights the city is accustomed to of late, when gloves are jettisoned and coats left unbuttoned. Throngs of people were sitting around the circular fountain, likely exceeding the maximum weight anticipated by its designers. Loathe to be present for an impromptu mass baptism, The Observer headed inside to collect our tickets.
By the time we fully arrived at the New York Philharmonic's Chinese New Year concert, guests were already on their second flute of preshow Champagne. Red, a propitious color in the Chinese tradition, was the prevailing hue of the evening. Indeed, the room was a vision of black, white and red, between the tuxedoed gentlemen and their crimson-clad wives.
Jamee Gregory, Noreen Buckfire, Corinne and Maurice Greenberg, Gillian Miniter, Wendy Deng and Gary Parr were greeting their friends. By our estimation, about half the women in attendance wore customary cocktail regalia, while the other half donned dresses inspired by Chinese vestments—admittedly with varying degrees of aesthetic accuracy. From Szechuan cheongsams to abstractly oriental kaftans and saris, the ladies' livery was a sight to behold.
"I'll be your little concubine!" Deborah Norville squawked with delight, as she greeted Wilbur Ross, who seemed a bit taken aback, in his own set of Asian duds.
"Oh! You did it! You did it! You did it! Isn't this fun?" enthused Karen LeFrak as she embraced Mr. Ross, one of the few men audacious enough to wear traditional Chinese robes, those lordly silken habits of the ultimate leisure class. The black-and-red ensemble was purchased on a recent trip to Shanghai, Mr. Ross told The Observer. Looking down, we noticed Mr. Ross's slippers, each adorned with a single Chinese character. "They say happiness and love," Mr. Ross offered as his wife, Hilary, approached.
Donning an elegant red dress of decidedly Western extraction, Ms. Geary Ross proudly brandished a bejeweled Panda clutch purse. "The pandas secretly want to be dragons," Mr. Ross said with a slightly downturned grin. Unable to divorce our Anglo sensibilities, we bemoaned our own Chinese zodiac sign, the snake, wishing that we too had been born a dragon. "Oh, every year is auspicious," Mr. Ross offered said with Confucian prudence.
Soon, attendants were ringing bells with latent insistence, ushering people inside the concert hall with their sonorous chimes. What followed was an innovative series of scores, played with largely Western instruments but capturing those lithe melodies of Chinese music. A league of Mongolian youth choristers took the stage in traditional dress, performing a series of folk songs with musical accompaniment from the Philharmonic orchestra. The children, some barely old enough to stand still, sung with poignant clarity, earning massive applause from the audience. Finally, piano virtuoso Lang Lang appeared onstage, effortlessly executing a complex Liszt concerto. The program ended as the Mongolian youth chorus reappeared on stage, singing "America the Beautiful" with Lang Lang's accompaniment.
After the performance, crowds meandered out of the amphitheater. Guests seated at the gala dinner found their tables. We found our seat, and, noticed we were sitting next to China's deputy representative to the United Nations, Ambassador Wang Min. We asked Ambassador Min his thoughts on the performance, and, after a few gruff answers he inquired whether or not we were a journalist.
We noticed Sandy Weill appear in the dining area, and taking momentary leave of the ambassador, asked him about the performance. "Oh, it's phenomenal, it's uplifting, it's just great," he gushed. After chronicling the Chinese cities that he has visited over the years, Mr. Weill explained that he has high hopes for the year of the dragon, specifically "the world getting along and cooperating and working together." We'll gladly raise a glass to that, Mr. Weill.
Returning to our seat, we noticed that Ambassador Min had switched places with his wife, Madame Ren Hui. Despite the initial sangfroid, we convinced the ambassador that we had little interest in communism or free speech, ultimately achieving détente over a discussion of college admissions. Before the evening was through, The Observer had made an ally in Ambassador Min, who offered us traveling tips should we venture to China ourself.
To be sure, conversation in the room largely focused on Mr. Lang, a certified piano prodigy widely regarded as one of the great musicians of our time. Finding philanthropist Oscar Tang across the room, we asked what he thought of Mr. Lang. Mr. Tang, as it were, knows him intimately. "We have a dinner for the New York Philharmonic every summer, so he's had dinner at our house and so forth," he said in a serenely soft tone. "It's a great pleasure to have him."
Lady Linda Wong Davies similarly praised Mr. Lang, explaining that he has become an important figure in both the cultural and musical realms. "He's a great ambassador for classical music, number one, because he's young he's fun and he's cool, and number two for China," she said from her perch at the table, with becrystaled Jimmy Choos cast aside and evening gown tickling the floor. "He's beyond being Chinese I think." The entire evening, she said, was an exercise in globalized understanding. "I think it's a great display of cultural diplomacy."
Moments later, we saw the piano man himself, sporting a sparkling gold sport coat. Despite his florid finery, Mr. Lang was humble and insouciant when we asked him if he considered himself a cultural ambassador. "That sounds good! That sounds very good!" he said with a laugh. He was less interested in his own performance, however, than the children's chorus. "They were so cute!" he cooed. While Mr. Lang may not have been the stiff-necked classical pianist we anticipated, his hands unquestionably belonged to a master of the ivories.
With his baby-soft grip in our own, we realized we were holding, quite literally, a multimillion-dollar appendage. The year of the dragon, we decided, would be a good one. Auspicious, indeed.
eknutsen@observer.com