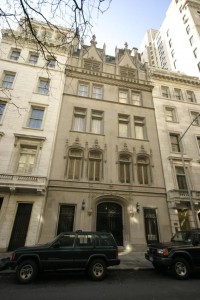 Lucille Roberts, the late, great  princess of fitness, was known for whipping women into shape. Her girls-only meccas of cardio cross training dot New York where floundering females can find new confidence, sculpting themselves new hot bods. Men need not apply. Curiously, however, the franchise does employ males, at least for now. One spurned Y-chromosomal  ex-employee is lashing out at a very personal piece of the Roberts empire: her old Upper East Side home.
The Post reports a chubby (former) employee has been accused of attacking the Roberts' family mansion, originally built for a Woolworth heiress. The man, identified as "David" from New Jersey, threw paint on the $90 million mansion and shot it with BB pellets.
The doorman was given a description of the alleged vandal, and described him as "in his 20s, fat with a double chin, who looks like he's smuggling oranges in his cheeks." Ouch.
"David" has also sent threatening letters to the Roberts family, one of which included white powder. Perhaps it was just a protein supplement.
eknutsen@observer.com