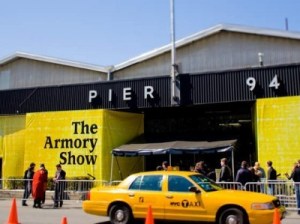 Yesterday, the Armory Show, New York's 14-year-old annual contemporary art fair, held every March on two piers on the West Side, announced that, as in years past, it would do its annual fundraiser with the Museum of Modern Art. But, as many art world observers noted, there was something missing: the fair had not yet released an exhibitor list. Last year, the list was released on Jan. 11.
The exhibitor list was released to The Observer this morning; it will be made public midday today.
The list, which can be seen in full below, and which covers both Pier 94 (the contemporary art section) and Pier 92 (for modern art) has been reduced by 25 percent, to around 220 from last year's 274 and that, said fair director Noah Horowitz in a telephone interview this morning, was a conscious choice. He said the aim, with the new design by Brooklyn-based architects Bade Stageberg Cox, was to give the event the feel of "a boutique fair." (In fact, the Armory has been facing competition in recent years from the Art Show, the annual fair put on concurrently with the Armory by the Art Dealers Association of America (ADAA) and a fair that has a boutique environment by virtue of its space limitations in the Seventh Regiment Armory building on the Upper East Side.)
As can be seen from the list below, the Armory has, predictably, lost some exhibitors to London's 10-year-old Frieze fair, which makes its New York debut on Randall's Island in May. Mr. Horowitz attributed this to loyalty that galleries  have shown to the that fair over the years.
But the Armory has at least one big name back on its roster: New York dealer David Zwirner. Last year, critics of the fair pointed out that it had lost two heavy hitters in Zwirner and the Pace Gallery. Mr. Zwirner, who is also exhibiting in the ADAA's Art Show and Frieze, came back on board, Mr. Horowitz said, after multiple discussions with him. (In this regard, Mr. Horowitz's former position as director of the online VIP Art Fair seems to have helped him break the ice with dealers.) "We've improved outreach to exhibitors who dropped out," said Mr. Horowitz, who added that he made the argument to Mr. Zwirner that his presence at the Armory, where he will exhibit a new site-specific installation by artist Michael Riedel,  would be "complementary" to his display uptown at the Art Show. "It will be a knockout place to show primary work," Mr. Horowitz said he told Mr. Zwirner, referring to the segment of the art market that encompasses fresh-from-the-studio work by artists, as opposed to "secondary market," meaning resale or historical pieces.
Mr. Horowitz has also brought back on board Sprüth Magers, the London-  and Berlin-based gallery that dropped out of the fair over five years ago, and that has since participated in the Independent fair.
Generally, change is afoot at the Armory Show. Booths are bigger, Mr. Horowitz said. Also, there is a clearer floor plan, more social space, better VIP services (including a VIP lounge twice the size as previous years), a proper sit-down restaurant as well as two coffee bar cafes (food services on the piers have been a major source of complaint) and a dedicated space for panel discussions. At the first meeting with the Armory Show, the architects, Mr. Horowitz said, "brought with them the floor plans of every major art fair in the world. They did their homework." If it is competition from other fairs that has brought about major improvements at New York's hometown event—competition not just from Frieze and ADAA's Art Show, but also from the Independent, which runs concurrently with the Armory and has absorbed some of its younger dealers—all the better for the beneficiaries of those improvements: collectors, dealers and the art-interested public.
"Come April, people will reflect and say that the Armory Show is back on track," Mr. Horowitz said. "I'm optimistic that it will be a success."
The Armory Show runs March 8-11, 2012.
Pier 94 — Contemporary
AMBACH & RICE, Los Angeles
Andréhn-Schiptjenko, Stockholm
Angles Gallery, Los Angeles
Baró Galeria, São Paulo
Galerie Guido W. Baudach, Berlin
BISCHOFF/WEISS, London
BLAIN|SOUTHERN, London
Peter Blum, New York
Marianne Boesky Gallery, New York
Luciana Brito Galeria, São Paulo
Cardi Black Box, Milan
Cherry and Martin, Los Angeles
Galleria Continua, San Gimignano, Beijing, Le Moulin
Corkin Gallery, Toronto
Pilar Corrias Gallery, London
Corvi-Mora, London
CRG Gallery, New York
Galerie Crone, Berlin
Massimo De Carlo, Milan
Galerie Jérôme de Noirmont, Paris
Galerie Anne de Villepoix, Paris
Dirimart, Istanbul
Durham Press, Durham
Galerie EIGEN + ART, Berlin
Eleven Rivington, New York
Derek Eller Gallery, New York
Henrique Faria Fine Art, New York
Ronald Feldman Fine Arts, New York
Zach Feuer Gallery, New York
Galerie Forsblom, Helsinki
Fredericks & Freiser, New York
Galerie Laurent Godin, Paris
González y González, Santiago
Howard Greenberg Gallery, New York
Greenberg Van Doren Gallery, New York
Greene Naftali, New York
Kavi Gupta, Chicago
Haines Gallery, San Francisco
Hales Gallery, London
Hamish Morrison Galerie, Berlin
Leila Heller Gallery/JAMM, New York, London, Kuwait
Richard Heller Gallery, Santa Monica
Rhona Hoffman Gallery, Chicago
Galerie Hussenot, Paris
Gallery Hyundai, Seoul
Ingleby Gallery, Edinburgh
Galerie Michael Janssen, Berlin
JGM. Galerie, Paris
Kaikai Kiki Gallery, Tokyo
Kalfayan Galleries, Athens
Georg Kargl Fine Arts, Vienna
mike karstens, Münster
Paul Kasmin Gallery, New York
Sean Kelly Gallery, New York
Kerlin Gallery, Dublin
Galerie Parisa Kind, Frankfurt
Klosterfelde, Berlin
Leo Koenig Inc., New York
Michael Kohn Gallery, Los Angeles
Ai Kowada Gallery x hiromiyoshii, Tokyo
Andrew Kreps Gallery, New York
Galerie Krinzinger, Vienna
Kukje Gallery/Tina Kim Gallery, Seoul, New York
Josh Lilley, London
Ignacio Liprandi Arte Contemporaneo, Buenos Aires
Lisson Gallery, London
Loevenbruck, Paris
Loock Galerie, Berlin
Mai 36 Galerie, Zurich
Galerie Ron Mandos, Amsterdam
Marlborough Chelsea, New York
Mendes Wood, São Paulo
Yossi Milo Gallery, New York
Victoria Miro, London
Mixografia, Los Angeles
moniquemeloche, Chicago
MONITOR, Rome
Galerie nächst St. Stephan Rosemarie Schwarzwälder, Vienna
Edward Tyler Nahem Fine Art, New York
Mihai Nicodim Gallery, Los Angeles
Carolina Nitsch, New York
Nyehaus / Loretta Howard Gallery, New York
Galerie Nathalie Obadia, Paris
ONE AND J. Gallery, Seoul
Galleria Lorcan O'Neill, Rome
Other Criteria, London
Parkett Publishers, New York
Pi Artworks, Istanbul
Pierogi, Brooklyn
P K M Gallery, Seoul
Poligrafa, Barcelona
Praz-Delavallade, Paris
RAMPA, Istanbul
Ratio 3, San Francisco
Regina Gallery, Moscow
Galeria Nara Roesler, São Paulo
Rokeby, London
Mary Ryan Gallery, New York
Galerie Thomas Schulte, Berlin
Anna Schwartz Gallery, Melbourne
Galeria SENDA, Barcelona
Jack Shainman Gallery, New York
Sies + Höke, Düsseldorf
Bruce Silverstein, New York
Fredric Snitzer Gallery, Miami
Galeria Filomena Soares, Lisbon
Sprüth Magers, Berlin
Starkwhite, Auckland
Tang Contemporary Art, Beijing
Galerie Daniel Templon, Paris
Two Palms, New York
Singapore Tyler Print Institute, Singapore
Universal Limited Art Editions, Bay Shore
Upstream Gallery, Amsterdam
Galerie Bob van Orsouw, Zurich
Susanne Vielmetter Los Angeles Projects, Culver City
Max Wigram Gallery, London
Bryce Wolkowitz Gallery, New York
Workplace Gallery, Gateshead
David Zwirner, New York

Armory Focus: The Nordic Countries
Galerie Anhava, Helsinki
Martin Asbæk Gallery, Copenhagen
Beaver Projects, Copenhagen
Gallery Niklas Belenius, Stockholm
Galleri Bo Bjerggaard, Copenhagen
Crystal, Stockholm
D.O.R., Oslo
Dortmund Bodega, Oslo
ELASTIC, Malmö
Fruit & Flower Deli, Stockholm
i8, Reykjavik
IMO, Copenhagen
Galleri Magnus Karlsson, Stockholm
Christian Larsen, Stockholm
NOPlace, Oslo
Galleri Susanne Ottesen, Copenhagen
David Risley Gallery, Copenhagen
Galleri Christian Torp, Oslo
V1 Gallery, Copenhagen
Armory Focus: The Nordic Countries is sponsored by the ACE HOTEL NEW YORK.

Solo Projects
Galeria Lucia de la Puente, Lima: Sandra Gamarra
Francois Ghebaly Gallery, Los Angeles / Nicole Klagsbrun Gallery, New York: Patrick Jackson
Horton Gallery, New York: Wallace Whitney
KS Art, New York: Jocelyn Hobbie
Katharine Mulherin Contemporary Art Projects, Toronto: Mike Bayne
On Stellar Rays, New York: Clifford Owens
SEVENTEEN, London: Kate Owens
TEAPOT, Cologne: Christian Eisenberger
Van Horn, Düsseldorf: Jan Albers / Wendy White
Winkleman Gallery, New York: Jennifer Dalton
Not-For-Profit Section
Art Dealers Association of Canada, Toronto
Art in General, New York
The Living Arts Museum, Reykjavik / Overgaden., Copenhagen
New Museum, New York
Whitechapel Gallery, London
Pier 92 — Modern
Galerie A.L.F.A., Paris
Babcock Galleries, New York
James Barron Art, South Kent
Armand Bartos Fine Art, New York
Galerie Hervé Bize, Nancy
Jonathan Boos, Bloomfield Village
Browse & Darby, London
Simon Capstick-Dale Fine Art, New York
Chowaiki & Co., New York
Crane Kalman Gallery, London
Alan Cristea Gallery, London
Christopher Cutts Gallery, Toronto
Danese, New York
DC Moore Gallery, New York
DIE GALERIE, Frankfurt
Peter Findlay Gallery, New York
Fleisher/Ollman Gallery, Philadelphia
Forum Gallery, New York
Galleria d'Arte Maggiore G.A.M., Bologna
James Goodman Gallery, New York
HackelBury Fine Art, London
Hackett | Mill, San Francisco
Carl Hammer Gallery, Chicago
Hill Gallery, Birmingham
Hirschl & Adler, New York
Nancy Hoffman Gallery, New York
Vivian Horan Fine Art, New York
Bernard Jacobson Gallery, London
David Janis Gallery, New York
James Kelly Contemporary, Santa Fe
Robert Klein Gallery, Boston
David Klein Gallery, Birmingham
Alan Koppel Gallery, Chicago
LEVY Galerie, Hamburg
Galerie Ludorff, Düsseldorf
Marlborough Gallery, New York
McCormick Gallery/Vallarino Fine Art, Chicago, New York
Mireille Mosler, New York
Jerald Melberg Gallery, Charlotte
Richard Norton Gallery, Chicago
O'Hara Gallery, Inc., New York
Oriol Galeria d'Art, Barcelona
Pace Prints, New York
Gerald Peters Gallery, New York
Galleria Repetto, Acqui Terme
Ricco/Maresca Gallery, New York
Yancey Richardson Gallery, New York
Michael Rosenfeld Gallery, New York
Galerie Michael Schultz, Berlin
Marc Selwyn Fine Art, Los Angeles
Senior & Shopmaker Gallery, New York
Susan Sheehan Gallery, New York
Galerie Sho Contemporary Art, Tokyo
Sicardi Gallery, Houston
Sims Reed, London
Spanierman Modern, New York
Springer & Winckler Galerie, Berlin
Craig F. Starr Gallery, New York
John Szoke Editions, New York
Hollis Taggart Galleries, New York
Tasende Gallery, La Jolla
Galerie Thomas, Munich
Leon Tovar Gallery, New York
Meredith Ward Fine Art, New York
Wetterling Gallery, Stockholm
Whitestone Gallery, Philadelphia
D. Wigmore Fine Art, New York
Amy Wolf Fine Art and Elrick-Manley Fine Art, New York
Pavel Zoubok Gallery, New York