Bank of America has renewed its lease at 114 West 47th Street for approximately 360,000 square feet of space—far less than it currently occupies in the building.
The bank had been in discussions to extend its occupancy at the building for months. On Monday, insiders with direct knowledge of the deal and a spokeswoman for the bank, confirmed that the contracted lease had been signed on Friday morning.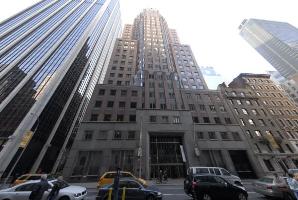 The deal is the second ancillary location to the bank's New York City headquarters at One Bryant Park here it has significantly decreased the size of its office footprint.
According to several sources familiar with 114 West 47th Street, Bank of America in recent years has leased virtually all of the building's roughly 660,000 square feet of space. Though Bank of America wouldn't confirm how much space it has at the 20-story midtown building, which sits nearby to One Bryant Park along Sixth Avenue, the lease renewal would appear to be a substantial reduction in space it has at the location.
The deal follows a downsizing in Lower Manhattan in recent months. The bank inherited about three million square feet at the World Financial Center when it purchased Merrill Lynch during the financial crisis in 2008. Merrill's space was set to expire in 2013 and there was widespread speculation in the real estate industry how much the bank would keep. Last summer, Bank of America ended up renewing only a fraction of the square footage Merrill had there, about 750,000 square feet.
The Durst Organization owns 114 West 47th Street. For a time last year, there was speculation among real estate brokers whether Bank of America could relocate from 114 West 47th Street, including rumors that the bank could take space at Four Times Square, which abuts One Bryant Park. Conde Nast, Four Times Square's biggest tenant, is relocating from that property to One World Trade Center. The Durst Organization owns Four Times Square and developed One Bryant Park with Bank of America as its anchor tenant there. The landlord also purchased a $100 million stake in One World Trade Center, an investment that was viewed by many real estate observers as a facilitating factor in Conde Nast's move to that tower.
Lately though Bank of America has suffered setbacks that have appeared to preclude bold real estate commitments. Last summer, the bank paid out $8.5 billion to settle claims from investors that lost money on mortgage backed securities during the downturn.
Cushman & Wakefield represented Bank of America in the deal. The Durst Organization is represented at the property by an in house team of leasing executives. Neither could be reached for comment by press time.