The New Jersey Nets are taking another step closer to becoming Brooklyn's first professional sports team since the Dodgers walked away from the borough almost 55 years ago, sources revealed to The Commercial Observer yesterday.
The team is relocating its corporate headquarters from East Rutherford to Downtown Brooklyn, where the organization is taking 35,145 square feet at the office building 15 MetroTech Center. The Nets will take the space for between five and 10 years at rents in the $30s per square foot, said sources.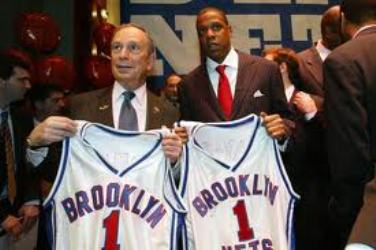 The Nets will sublease 15 Metrotech's entire 11th floor from Visiting Nurse Health Care System, Inc., which is consolidating its operations onto another floor it leases at the property, the tenth.
The Nets will take possession of the office space in the coming months in preparation for the 2012-2013 season. That season, which begins this October, will be the first the team will play at the Barclays Center, the new arena being built for the organization by developer and partial Nets owner Forest City Ratner as part of a large mixed use real estate project over Brooklyn's Atlantic Yards.
Although Forest City Ratner owns 15 MetroTech and the Atlantic Yards arena in which the basketball team will play, the negotiations were between Visiting Nurse Health Care System and the Nets.
"MetroTech is a terrific environment in the heart of Brooklyn's business district and a convenient location for our corporate headquarters," Nets and Barclays Center CEO Brett Yormark said in a statement released by the team. "We look forward to being part of the continued renaissance of downtown Brooklyn."
According to Patrick Rees, a spokesman for the Nets, the team will move into the new space at 15 MetroTech in phases and will keep existing space that it has at the building 390 Murray Hill Parkway in East Rutherford, though its headquarters will now be at the Brooklyn location.
"The team will continue to practice in East Rutherford at least through next season," Mr. Rees told The Commercial Observer, noting that 390 Murray Hill Parkway houses the team's practice facility and basketball courts as well as front office operations.
Cushman & Wakefield's former chief executive and its chairman of global brokerage Bruce Mosler represented the team in the lease at Metrotech. Glenn Markman, an executive at C&W, represented Visiting Nurse Health Care System Inc. The deal is the latest high profile transaction for Mr. Mosler, who returned to brokerage in 2010 after leading C&W for five years.
"The process took several months to find the right space," Mr. Mosler said. "We looked at Dumbo, we looked at other locations where they would be a building's single occupant. Nothing really seemed to fit the bill until we found this location, which really hit all the criteria they were looking for. All the team's executives will be here so it was important to find the right fit."
Daniel Geiger, Staff Writer, is reachable at DGeiger@Observer.com