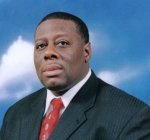 This morning The Politicker reported a new challenger, Anthony Jones, had officially registered a committee for the race against indicted Assemblyman William Boyland Jr. This afternoon, another candidate has filed for the seat: Nathan Bradley, Deputy Chief of Staff to Senator John Sampson.
This brings the total number of candidates running for the seat to four: Community Activists Tony Herbert & Mr. Jones, Mr. Bradley and, of course, the incumbent himself.
Mr. Boyland is facing his second set of serious corruption charges in less than a year. Federal prosecutors allege he accepted bribes to help pay for his lawyers to successfully fight his first case.
How Mr. Boyland's case progresses will have a definite impact on the race, as any deal involving pleading guilty to a felony charge will automatically remove a state legislator from office. Former State Senator Carl Kruger was arrested at the same time as Mr. Boyland and was forced to resign when he accepted a plea deal last December. There's currently a spirited special election occurring to replace him.
A special election to replace a legislative vacancy is very different than a normal election as local Democratic Party leaders get to select their nominee instead of a traditional primary election.