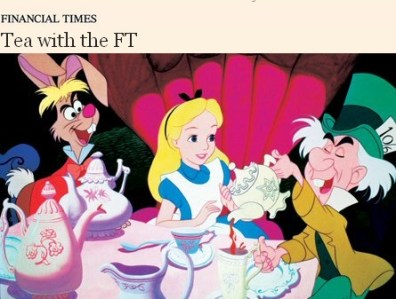 Here's a fantastically odd way to interact with your readers: Invite them for an "informal" and "off the record" "tea", wherein, they use said readers as a focus group for their product!
FT.com just sent out an email to their subscribers asking them to do inasmuch. The email reads (emphasis ours):
Dear FT.com subscriber,

We're inviting you to join us here at the Financial Times for our latest 'Tea with the FT' – an informal discussion around whether we are developing the right content and tools for our audience.

We would like to discuss the challenges you face and what key themes and trends you are seeing as we move into 2012. We would also like to hear your opinion on what role FT.com plays within your daily schedule and ideas on how the FT can develop services to better meet your needs.

This is an "off the record" event and the discussion will last approximately ninety minutes. So join a select group of senior executive FT.com readers from a broad range of industries and have your say.

Wednesday 1st of February at 8:30am – at the FT offices; 1330 6th Avenue, between 53rd and 54th Streets. If you are interested in coming to meet us to share your views please respond to patrick.sungbahadoor@ft.com by Thursday 26th of January. We will then send you an official invitation with more details.

Kind regards,

Mary Beth Christie
Online Product Management Director
FT.com
Preemptively off-the-record events are generally considered by journalists to be, well, not the finest of forms? Take for example the brouhaha that surrounded the August 2010 off-record lunch President Obama extended to the White House Press Pool (which, for ethical reasons, the New York Times declined to attend). Or remember, if you will, the Washington Post's 2009 public relations disaster that ensued when their publisher offered lobbyists—for $250,000 a pop—access to a salon at her home, where government officials and yes, their own reporters would all attend "off the record."
As a rule of thumb, even the most liberal and free-wheeling journalism wonks would agree that any attribution level below "on record" should be utilized only when someone won't otherwise speak; it shouldn't be the first condition, let alone the first offer. "Off record" events are typically offered by the people journalists report on, not by the people journalists report for.
Thankfully, "Online Product Management" doesn't even sound remotely tied to the actual creation of journalism at the Financial Times, something it demonstrates especially well by offering up something like this. Unfortunately, it also goes to demonstrate the uselessness of an event like this.
If potential attendees will be talking to people who only ostensibly create the "right content" for them—as opposed to, you know, FT journalists—why would they ever attend something like this in the first place? To troubleshoot? Or just because going for "tea" in Midtown sounds positively whimsical?
fkamer@observer.com | @weareyourfek