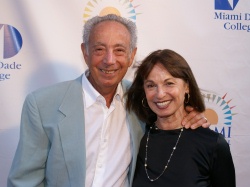 Stanley Bard was perhaps the best loved landlord in history. Proprietor of the Chelsea Hotel in hits high-flying, free-love heyday, Mr. Bard would accept artwork from his tenants if they couldn't afford rent. He befriended residents from Janis Joplin to Bob Dylan, creating a cultish Chelsea outpost frequented by starving artists, rock stars, beatniks, hippies and yuppies.
Ousted from the Hotel's management in 2007, it seems that Mr. Bard is seeking to settle down on higher ground. Mr. Bard and his wife, Phyllis, have just purchased a bougie apartment at 1001 Fifth Avenue for $4.5 million.
To be fair, the Bards are not strangers to Fifth Avenue. The couple list 1025 Fifth Avenue as their address, where they have lived since 1996, according to Property Shark. The couple's previous home at that address, a penthouse, is currently on the market for $3.2 million.
The three-bedroom home was listed by Douglas Elliman broker Norma Hirsh who told The Observer that it "was just a terrific apartment." She said it was the apartment's views that were most appealing to the Bards. "The views made it so special. People will pay money to buy a view," she told us.
Aside from their Park views ("and Central Park West," Ms. Hirsh proclaimed), the Bards have a newly renovated kitchen, a wood burning fireplace and three marble baths.
The home was sold by Carolyn Romantini who lists a Goshen, Connecticut home as her address on the deed.
eknutsen@observer.com