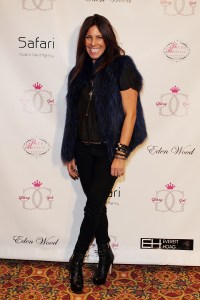 Completely Bare, the skin care/spa/beauty place owned by ousted-Real Housewives of New York City Cindy Barshop, is a classy joint. Not only can you go into one of three locations in NYC, Scarsdale, or Dallas to get your free teeth whitening consultation or facial tanning (just make sure you don't get that backwards), but Ms. Barshop's stores offer only the highest quality vaginal decorations.

We've known for awhile about Vajeweling and even…blurgh…Vatoos. But today's TMZ offers up a new service for Completely Bare's list of clientele: Cindy Barshop-designed merkins!
The first line is called the Foxy Bikini, in which the bikini line is waxed bare and replaced with a pubic wig made from real fox fur. They come in a variety of colors … including traditional pink!
For those who desire a more festive flower — Cindy also offers the Carnivale Bikini … in which the pubic region is decorated with feathers in a variety of colors!

But a fancy hoo-ha don't come cheap — starting price for the Carnivale is $195 and the Foxy is $30 extra.
Well come…that's not such a bad price for real fox fur! But if you're getting waxed, wouldn't the point be smoothness? Why would you add fur where there used to be hair? Why are you trying to confuse potential mates? Are you a furry?
Cindy Barshop, if you have any answers to these questions, please contact us.